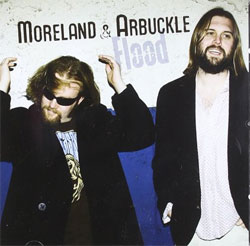 Moreland & Arbuckle
Flood (Telarc International, 2010)
Guitarist Aaron Moreland's and singer/harpist Dustin Arbuckle's recording Flood, out on Telarc International, has got more curves than a country road, enough sass to make your sweet, little granny reach for her fly swatter and just the right amount of a deep water blues sound to make a grown man cry.
Rip roaring one moment and sweet sorrow the next, Flood pours out a heady combo of Chicago and Delta blues with a streak of hard-edged, ass kicking rock and roll running just under the surface. This Kansas duo, along with drummer Brad Horner, has self-produced three previous recordings, Caney Valley Blues, Floyd's Market and 1861, as well as travel to Iraq to play for the American troops in 2008, so if Moreland & Arbuckle haven't hit your musical radar…well, hell honey, you ain't living right.
Opening with the incendiary Little Walter's "Hate to See You Go," Flood leaps headlong into a pure goodness. Steeped in an Americana sound and shifting effortlessly from electric to acoustic, Moreland & Arbuckle delves into a backroads sound that hits the juke joint blues of "18 Counties" to the sweet folk of "Can't Leave Well Enough Alone" written by Ryan Taylor to the smoky Delta blues of "Your Man Won't Ever Know." Tracks like "Bound and Determined" and "Can't Get Clear" are sizzling tracks ripe Mr. Moreland's wicked guitar licks and Mr. Arbuckle's heady vocals and harmonica while Mr. Horner keeps the joint jumping on drums.
The hard-hitting "What You Gonna Do" rolls down like a steam engine running late, but it's the banjo version of "Can't Get Clear" that rounds out the recording that is my personal favorite with its soulful harmonica lines and bluesy banjo.
Moreland & Arbuckle's Flood is razor-edged, wickedly soulful and downright intense – all the things a good blues CD should be.
Buy the album:
Author:
TJ Nelson
TJ Nelson is a regular CD reviewer and editor at World Music Central. She is also a fiction writer. Check out her latest book, Chasing Athena's Shadow.
Set in Pineboro, North Carolina, Chasing Athena's Shadow follows the adventures of Grace, an adult literacy teacher, as she seeks to solve a long forgotten family mystery. Her charmingly dysfunctional family is of little help in her quest. Along with her best friends, an attractive Mexican teacher and an amiable gay chef, Grace must find the one fading memory that holds the key to why Grace's great-grandmother, Athena, shot her husband on the courthouse steps in 1931.
Traversing the line between the Old South and New South, Grace will have to dig into the past to uncover Athena's true crime.