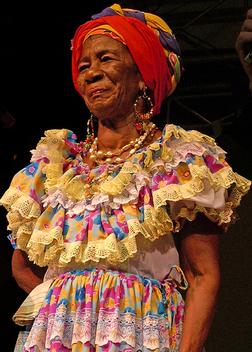 Etelvina Maldonado, one of the leading Colombian bullerengue musicians, died January 26 of 2010 in Cartagena de Indias (Colombia). Although she was a popular musician in traditional music circles, she gained national recognition in recent years.
She was born in Santa Ana. During her childhood she spent a lot of time participating in carnivals, town celebrations, singing bullerengues, fandango de lenguas and accompanied by the constant sound of drums.
"Etelvina was one of the pillars of bullerengue and a woman that showed through music the power of the Caribbean region," said Paula Marcela Moreno Zapata, Colombia's Minister of Culture. "She was a voice capable of touching the most intimate fibers of the heart, generating profound emotions. The nation should remember her as a symbol of the musical heritage of the cantaoras [female folk singers]."
Her legend was solidified in 1996 when the Ale Kuma album by Leonardo Gómez came out. It was a fusion of jazz with traditional music and it included four cantaoras, two from the Pacific region and two from the Caribbean area, combined with a jazz group. One of the female singers was Maldonado.
Since then, Maldonado became known as one of the leading cultivators of Colombian traditional music. One of her highlights was her participation at the Gran Concierto Nacional held last year, where she showcased her talent.
Colombian music critics regarded her as one of the top folk vocalists in Colombia along with Totó La Momposina and Petrona Martínez. However, her fragile health prevented her from touring.
"Etelvina Maldonado was a legend of traditional Colombian music and one of the most important interpreters of Afro-Colombian song," said Kaisha S. Johnson, Director of Touring Artists at the Center for Traditional Music and Dance. "Of particular note, was her association with bullerengue, a musical style originating on the Caribbean coast of Colombia."
Singing was her passion, but also a way to escape poverty. "Every time I went to participate in festivals, I always won or was one of the best," said Etelvina. "In one occasion I sold several of those awards for an opportunity to register my son at school. I've always been ready to solve any problem to further their education."
Author:
World Music Central News Department
World music news from the editors at World Music Central