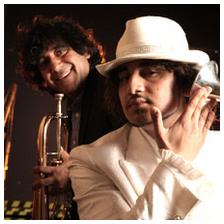 Roskilde Festival in Denmark announced the world music acts that are scheduled to perform in he 2010 edition of the festival. Roskilde Festival will be held 1 – 4 July 2010. Warm-up from 27 June at 8:00.
Boban i Marko Markovic Orkestar (Serbia) has been hailed as one of the best players in Eastern European music – at least since they recorded the soundtrack to the Kusturica film Underground. Today, the great musician and trumpet player has brought junior to the helm. Father and son front an orchestra that leaves the listener dizzy in a cloud of brandy, brass, gaudy tone colours and high tempos.
CeU (Brazil) has already taken a wide audience across the Atlantic by storm. In fact, no Brazilian artist has gotten as far as Céu on the US Billboard chart since Astrud Gilberto and her "The Girl from Ipanema". The new, coming Brazilian superstar draws on salsa, bossa nova and hip hop in a hot and sophisticated mix.
Choc Quib Town (Colombia) plays sunny hip hop with Caribbean waves and milk chocolate-coloured skin. Hip hop, funk and salsa form the starting point for the trio whom Roskilde Festival appreciates having back on the poster after they had to change their touring plans last year.
Dulsori (Korea) imitates the rage of the elements by means of especially drums and powerful vocals. Focus is on the resounding primordial force of percussion instruments. And through music, rhythms and dancing, the band wants to recreate an original state of well-being and cohesion with the modern, Western audience.

Tickets to Roskilde Festival 2010 are available through the festival's online ticket sale: www.roskilde-festival.dk
Author:
World Music Central News Department
World music news from the editors at World Music Central