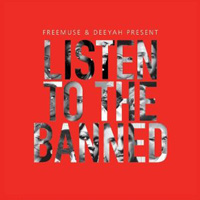 Compiled by the artist Deeyah and Freemuse, the Listen to the Banned CD compilation album will be released on March 3rd of 2010 by Norway's Grappa Records and distributed internationally. The collection includes many of the best known politically censored musicians: Lapiro de Mbanga, Freemuse Award winner Tiken Jah Fakoly, Marcel Khalife, Mahsa Vahdat, and Ferhat Tunç. They are musicians who have told their stories on freemuse.org, some of them have performed at Music Freedom Day or at Freemuse conferences, and they all share personal experiences of being censored, persecuted or even threatened.
Listen to the Banned includes a booklet portraying some of the world's most renowned artists facing censorship. Their stories are often painful, but they are also the stories of remarkable artists, who will not give in. Artists who believe they can make a difference. There is the song and story of the late Uighur singer, Kurash Sultan, who was imprisoned and tortured by Chinese authorities and after his escape found a new home in Sweden and a very fruitful musical collaboration with Ale Moller.
There is the controversial song about the 'constipated constitution' in Cameroon which led to the imprisonment of Lapiro de Mbanga, and the song that made Marcel Khalife spend time in a court room in Beirut charged with blasphemy. Not to mention Tiken Jah Fakoly's controversial call on corrupt political leaders to 'Leave power'. As it is implied in the title itself, this CD offers a unique opportunity to actually listen to the banned.
Buy the album:
Author:
World Music Central News Department
World music news from the editors at World Music Central