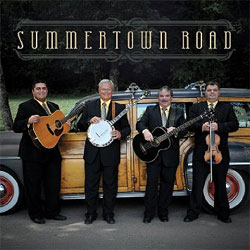 Rounder Records announced the release of the self titled debut album by Summertown Road on March 23. Produced by renowned bluegrass musician Don Rigsby, Summertown Road is a fresh collection of bluegrass tunes – with 9 out of 14 tracks written by members of the band.
With their skillful songwriting, emotional vocals, tight harmonies, and first-rate musicianship, Summertown Road manages to straddle both sides of the bluegrass spectrum at once – the traditional and the contemporary – appealing to every bluegrass fan imaginable. (see below for complete track listing).
Summertown Road broke onto the bluegrass scene straight out of Ashland, Kentucky in 2008 and although this is their debut album, this is hardly a band of upstarts – the band members have a combined century's worth of experience.
Fiddle player John Rigsby (Ralph Stanley and the Clinch Mountain Boys, Melvin Goins) delivers smoky leads which are the essence of Kentucky. Banjoist Jack Hicks (Bill Monroe, The Whites, Jim & Jesse, Lester Flatt) has played with some of the greatest artists the genre has ever produced. Both crackle with enthusiasm and precision on this album.
Singer Bo Isaac started off his career at age 5 at the Kentucky Opry, then toured with Dave Evans and eventually as a solo artist. His tenor voice is piercing and true and appeals to listeners searching for a modern lead vocalist sound. Rounding out the quartet is bassist Randy Thomas (The Peach Mountain Boys, Dave Evans), who anchors and propels the band's infectious rhythms.
Buy Summertown Road.
Summertown Road will be touring throughout the U.S. in 2010. See below for upcoming tour dates.
Upcoming Tour Dates:
February
13 Beckham Combs CC Hindman, KY
26 Shepherdsville Opry Shepherdsville, KY
27 Meadowgreen Park Clay City, KY
March
5 Gateway City Bluegrass Festival Saint Louis, MO
6-7 Shorty's Strickly Bluegrass Festival Peoria, IL
12 Kentuckians of Michigan Romulus, MI
13 Bluegrass Opry Barn Oakwood, OH
26 Southern Ohio Indoor Music Festival Wilmington, OH
27 Old Star Mall Williamston,KY
Author:
World Music Central News Department
World music news from the editors at World Music Central