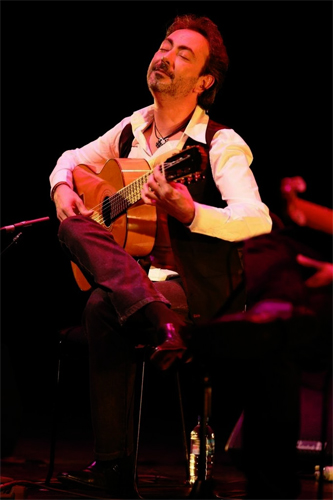 One of the leading Flamenco guitarists, José Antonio Rodriguez will be performing on Friday, February 19 of 2010 at 8:00 PM at Skirball Center for the Performing Arts, NYU. the concert is part of the New York Flamenco Festival 2010.
The award-winning guitarist Jose Antonio Rodriguez, one of the most remarkable guitarists in contemporary flamenco, presents Córdoba …en el Tiempo, his compelling work dedicated to the city of his birth. His program reflects his memories of Spain's vibrant and romantic city that for centuries was Europe's greatest cultural center.
Rodríguez has composed music for orchestras and dance companies, appeared in Carlos Saura's Flamenco and Leyenda, and at the age of 20 was the youngest artist to receive the title of Official Guitar Maestro from the Córdoba Music Conservatory. He is joined by Sebastian Cruz (vocal), Chico Gallardo (guitar), Agustin Diassera (percussion), and the captivating dancer Daniel Navarro, who appears as guest artist.
Recordings available: Leyenda, Leyenda, Flamenco
Video of Jose_Antonio_Rodriguez
Skirball Center for the Performing Arts, NYU
566 LaGuardia Place at Washington Square South, New York City
$40, $50 Available at (212) 545-7536 or (212) 352-3101 or www.skirballcenter.nyu.edu/calendar/flamenco
Author:
World Music Central News Department
World music news from the editors at World Music Central