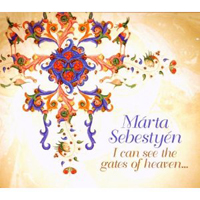 World Village has released in North America the latest album by renowned Hungarian singer Márta Sebestyén. The record is titled I Can See the Gates of Heaven. The album represents a major new shift in Sebestyén's career. It is her first album recorded for her own label, released so far only in Hungary and now licensed for the world by World Village.
She sings songs personally chosen from the extensive Hungarian folk and religious repertoire – songs that have close personal resonance for her and that reflect the proud cultural heritage of the Carpathians. The musicians accompanying her are two of Hungary's finest – Balazs Dongo Sokolay on bagpipes, flutes, saxophone and tarogato and Matyas Bolya on lute and zither. In the sleeve notes, Sebestyén introduces the album and the background to each song, and leading Hungarian folklorist Ferenc Szabó provides further detail.
Best known for her Oscar-winning contribution to the soundtrack of "The English Patient", Marta has also won a Grammy for her album Boheme with Deep Forest and recorded several albums with Muszikas (winners of the Womex Special Award in 2008) for the Hannibal label. Most recently she appeared on Peter Gabriel's Big Blue Ball album.
Buy the album:
In North America: I Can See the Gates of Heaven.Other recordings available: The Best of Marta Sebestyen: Voice of "The English Patient, The Prisoner's Song, Morning Star, The Lost Jewish Music of Transylvania, High Days: Hungarian Christmas Folk Songs, World Star of World Music, Loverecord, Live at Liszt Academy, Kismet, Dudoltam
In Europe: I Can See the Gates of Heaven. Other recordings available: The English Patient, Kismet, Morning Star, High Days
Author:
World Music Central News Department
World music news from the editors at World Music Central