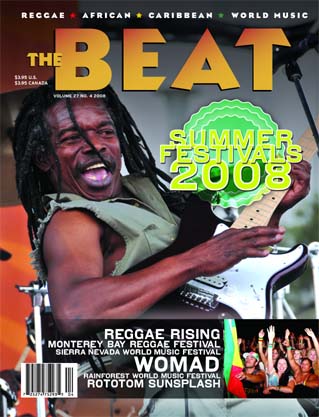 The Beat, one of the leading American publications in the areas of reggae, Caribbean and world music has shut down. Publisher and Editor CC Smith announced the closing on December 20th. "It is with a heavy heart that I make the official announcement that many of you have anticipated: The Beat magazine has ceased publication," said CC Smith in a press release. "The precipitous decline in the music business, publishing business and the economy has finally caught up with us after 28 years of existence."
CC Smith provides a historical overview: "The Beat began as a handmade fanzine, a true labor of love, run on a shoestring and blessed by the good will and volunteer contributions by many many people over the years, among them our devoted, highly talented writers, photographers, artists and graphic designers. It was kept alive and strong by subscribers, advertisers, music fans and musicians, and a valiant network of grassroots distributors, independent record stores and bookshops, as well as our mainstream distributor RCS and our wonderful printer American Web.
The Beat was unique, and it is really a miracle it survived as long as it did. In fact, each issue was a little miracle. Within its lifespan, we went from typewriters and typesetting, rubylith color separations, exacto knives and wax to the digital age. I learned, and loved, the editorial process and was always excited as the next issue's columns, reviews and features began to arrive, privileged to be the first to read the insights and opinions of our experts and basking in their company. Even though I have never personally met some of our far-flung contributors, many have become cherished, beloved friends who have taught me so much, enriching my life with humor, intelligence, and above all in sharing our common appreciation of the music."
Even though other former print publications have transformed into web-only editions, CC Smith rules that out: "Many people have suggested taking The Beat online to save it, but the advertising support is just not there, nor are other resources necessary to make it a successful transition. And to tell the truth, my heart is just not in it. The music, reggae in particular, has changed so much since the early days when it was new, fun, inspiring and creative, and there is so much less to say about it now."
The entire print edition of The Beat will be kept alive through an information resource company called Proquest that provides databases of periodicals to libraries and research institutions. The Beat will be included in the International Index to Music Periodicals and Ethnic NewsWatch databases in 2010. The Beat's back issues will then be available to the public online at any library that subscribes to these services. http://www.proquest.com/en-US/catalogs/databases/detail/iimp_ft.shtml & http://www.proquest.com/en-US/catalogs/databases/detail/ethnic_newswatch.shtml. Back issues will be available for a little while longer at getthebeat.com.
CC Smith has opened a Web log to say farewell to The Beat's readers ByeByeBeat.blogspot.com.
Author:
World Music Central News Department
World music news from the editors at World Music Central