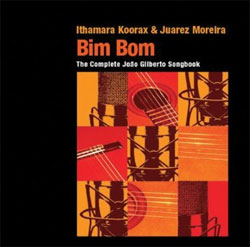 Ithamara Koorax and Juarez Moreira
Bim Bom: The Complete Joao Gilberto Songbook (Motéma Music, 2009)
In celebration of the 50th anniversary of Brazilian guitarist João Gilberto's release of Chega de Saudade, Motéma Music is set to release Bim Bom: The Complete Joao Gilberto Songbookk on October 13th. Featuring the silky vocals of Ithamara Koorax against the wonders of guitarist Juarez Moreira, Bim Bom is touted as the first ever complete collection of all of João Gilberto's compositions.
The second installment in Motéma Music's "Jazz Therapy" series and a partner with The Jazz Foundation of America in the Dizzy Gillespie Memorial Fund of Englewood Hospital and Medical Center, proceeds of the sale of this CD, along with Jazz Therapy (Volume I) with guitarists Roni-Ben Hur and Gene Bertoncini, will go to provide medical care to musicians in need. Fans get the added bonus beyond the glorious sounds on Bim Bom by knowing they are also helping musicians get needed medical treatment.
Bim Bom is downright silky smooth from the opening strains of title track "Bim Bom" all the way through to the sparkly "Acapulco." Bright and bouncy "Bim Bom" jets the listener straight to the exoticism of Brazil's famed bossa nova and into Mr. Gilberto's astonishingly smart songbook. With compositions that are tight and neatly drawn and a sound that is clean, Bim Bom is just plain plumy. The delicately dreamy "Hô-Bá-Lá-Lá" with Ms. Koorax's silvery vocals threaded throughout Mr. Moreira's seductive guitar lines is so lushly smooth that listeners might just have to recline just to listen to it.
Ms. Koorax and Mr. Moreira further drug the listener with the feather light "Forgotten Places," the plucky "Minha Saudade" and the sleepy sweetness of "Valsa (Bebel)." With "An Embrace to Bonfá," "Undiu" and "Glass Beads," Bim Bom is a treasure trove of delicious delights. Ms. Koorax's vocals weave effortlessly in and around Mr. Moreira's masterful guitar playing so that it is as if the two are intertwined.
Drawing on the expert craftsmanship of Mr. Gilberto, Bim Bom soars to dizzying heights with the stunning performances of Ms. Koorax, Mr. Moreira and producer Arnaldo de Souteiro. Bim Bom is proof that jazz therapy is both soothing and satisfying.
Buy the recording:
Author:
TJ Nelson
TJ Nelson is a regular CD reviewer and editor at World Music Central. She is also a fiction writer. Check out her latest book, Chasing Athena's Shadow.
Set in Pineboro, North Carolina, Chasing Athena's Shadow follows the adventures of Grace, an adult literacy teacher, as she seeks to solve a long forgotten family mystery. Her charmingly dysfunctional family is of little help in her quest. Along with her best friends, an attractive Mexican teacher and an amiable gay chef, Grace must find the one fading memory that holds the key to why Grace's great-grandmother, Athena, shot her husband on the courthouse steps in 1931.
Traversing the line between the Old South and New South, Grace will have to dig into the past to uncover Athena's true crime.