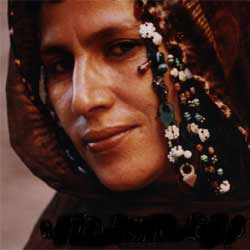 Renowned Saharawi singer Mariem Hassan was attacked by Moroccan youths in Madrid after having breakfast. The popular Saharawi singer was leaving a cafeteria with guitarist Lamgraifi Brahim, percussionist Vadiya Mint El Hanevi and one of her dancers when they were spotted by several Moroccan youths. The Moroccans noticed Mariem Hassan's traditional Saharawi scarf known as melfa. The youths asked if she was Saharawi. When she said yes, the youths began insulting her and a fight ensued. The Western Sahara is currently occupied by Morocco and Mariem grew up in the refugee camps in Algeria.
The five Moroccans fled in a taxi. The Saharawis were left with cuts and bruises. Mariem Hassan told reporters that her husband has asked her not to wear the melfa in public. This is not the only incident suffered by the Saharawi singer. She encountered similar hostility from Moroccans in Amsterdam and Stockholm.
Mariem Hassan recently performed in WOMAD Sicily and is currently in Madrid recording her new album for the Nubenegra label.
Author:
World Music Central News Department
World music news from the editors at World Music Central