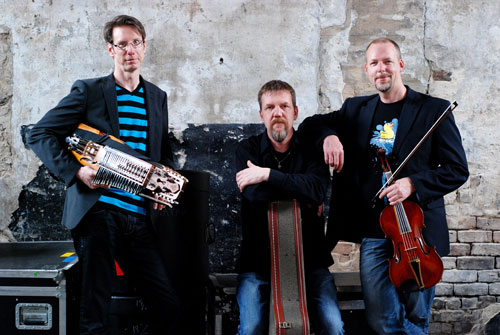 On Tuesday, September 22, 2009, Crossroads Music presents Väsen, performing the traditional music of Sweden on nyckelharpa (keyed fiddle), viola, and guitar. The concert will begin at 7:30 pm at 801 South 48th Street (at Baltimore Avenue). Tickets are $10-30 and are available both at the concert and in advance from our website and at Last Word Bookshop at 220 South 40th Street.
When he first heard the Swedish folk trio Väsen, bluegrass fiddler Darol Anger's impression was: "it was as if a whole new part of the world opened up to me. They illuminated a landscape I had never seen before, but which had been in front of my face all my life. I can't imagine a world without that sound now!"
This musical landscape may have global resonance, but it is based on nyckelharpa player Olav Johansson and violist Mikael Marin's home turf: the villages and village musicians of eastern Sweden, where they first dug into traditional tunes as teenagers.
In the towns and farms around Uppsala, Swedish legends like the farmer-fiddler Viksta Lasse shaped young musicians with famous dance tunes and madcap stage presence, while in places like Uppland, instruments like the nyckelharpa, a keyed fiddle with many drone and sympathetic strings that give it a rich, otherworldly tone, have long held sway. Roger Tallroth's guitar, a distinct departure from tradition, adds an innovative, piquant third line to the traditional intertwining duos at the heart of Swedish instrumental music.
The creative spark the trio brings to centuries-old Swedish sounds has evolved over the group's two decades playing together, improvising melodies, and kicking around beloved tunes, new and old. "Väsen is three soloists really, playing at the same time, but never dominating the others. Each of us is still very much considering what the others are doing," Johansson muses. "Very often, we keep three different lines going in and out of each other. We're simply telling the same story in different words."
Crossroads Music's programming is in part supported by the Philadelphia Cultural Fund and the Samuel S. Fels Fund. This project is supported by the Pennsylvania Council on the Arts, a state agency, through the Pennsylvania Partners in the Arts (PPA), its regional arts funding partnership. State government funding for the arts depends upon an annual appropriation by the Pennsylvania General Assembly and from the National Endowment for the Arts, a federal agency. PPA is administered in this region by the Greater Philadelphia Cultural Alliance.
Buy Väsen's recordings:
More information at www.crossroadsconcerts.org or 215-729-1028
Author:
World Music Central News Department
World music news from the editors at World Music Central