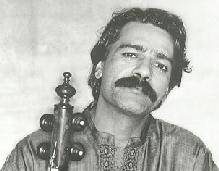 Iran's master musician and composer Kayhan Kalhor will perform Saturday, October 3, 2009 at 8:00 pm at the Peter Norton Symphony Space, located at Broadway at 95th Street, New York City.

Kayhan Kalhor has been instrumental in popularizing Persian music in the West through his solo concerts and work with Masters of Persian Music, Yo-Yo Ma's Silk Road Project, the Ghazal Ensemble, and Brooklyn Rider. In this program, he performs new improvisations for kamancheh (spike fiddle) and setar, a long-necked fretted lute that he will play solo in New York for the first time. His powerful and soulful music, which is inspired by the current situation in Iran and the democracy movement, is dedicated to the people of Iran. Accompaniment by Behrouz Jamali on tombak (drum).

Kayhan Kalhor, born in Tehran, began his musical studies at the age of seven. He performed with the prestigious National Orchestra of Radio and Television of Iran and the Shayda Ensemble of the Chavosh Cultural Center while still a teenager. Deeply devoted to the Iranian classical repertoire (radif), he was further inspired to study regional folkloric traditions, which added additional dimensions to his improvisations and acted as springboards for cross-cultural explorations.
Since then, Kalhor has performed and recorded with Iran's greatest instrumentalists and singers, including Mohammad Reza Shajarian and Shahram Nazeri, and toured the world as a soloist. He co-founded the Dastan, Ghazal: Persian & Indian Improvisations, and Masters of Persian Music ensembles and has appeared with the New York Philharmonic and the Orchestre National de Lyon.
His music has also been used for various television and film projects. He was the featured soloist on the soundtrack of Francis Ford Coppola's Youth Without Youth, a score on which he collaborated with Osvaldo Golijov. In 2004, he gave a solo recital at Carnegie Hall as part of American composer John Adams' "In Your Ear" series and, later that year, shared a double bill at Lincoln Center's Mostly Mozart Festival.
Kalhor is an original member of Yo-Yo Ma's Silk Road Ensemble and his works are heard on all of the ensemble's albums. Three of his recent recordings have been nominated for Grammy awards. His latest CD, Silent City, with the innovative ensemble Brooklyn Rider was released in 2008 on the World Village label. His most recent commission for the Kölner Philharmonic in Germany will be premiered in October 2009.
This program is part of Daniel Pearl World Music Days, an annual global event dedicated to the ideals of tolerance, friendship and a shared humanity.
This program is made possible in part with public support provided by the New York State Council on the Arts, a State agency, and the New York City Department of Cultural Affairs.
World Music Institute (WMI) is celebrating its 25th anniversary season as the most adventurous presenter of world music and dance in the US. More than 1,400 soloists and ensembles from over 100 countries and regions have been presented to New York audiences through WMI programs.
Available recordings:
In North America: Silent City, Silk Road Journeys: When Strangers Meet, Silk Road Journeys: Beyond the Horizon, Night Silence Desert, The Wind, Scattering Stars Like Dust, In the Mirror of the Sky, Kronos Caravan (with Kronos Quartet)

In Europe:

Silent City, Silk Road Journeys: When Strangers Meet, Kronos Caravan (with Kronos Quartet), Silk Road Journeys: Beyond the Horizon, Scattering Stars Like Dust, The Wind, Night Silence Desert, In the Mirror of the Sky,
Tickets: $30; students with college ID $18 Box office (212) 864-5400
Information/tickets: (212) 545-7536 www.worldmusicinstitute.org
Author:
World Music Central News Department
World music news from the editors at World Music Central