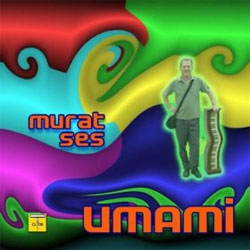 Murat Ses
Umami (Clou Records Clou-008 and on digital portals iTunes, aol.de, etc)
'Umami' is a Japanese word meaning "savory" thus applies to the sensation of savoriness, a distinctive taste, different from sweet, sour, bitter and salty. This is exactly the music philosophy of Murat who is in search of musical and artistic perfection and distinctiveness.. and this is the name of one more great album (seventh in a row) by Murat Ses, a state-of-art fusion of Anatolian-Levantine music, hiphop and a different type of mystic-sounding yet groovy spoken word.
Umami incorporates a myriad of cross-cultural elements and all these not only limited to Anatolia. There is Native-American sounds (predominantly Seminole) in a harmonious hand-in-hand with zurna sounds (one of Murat's decades long synthesizer and organ specialties) as performed on track Tamiami Trail.
Some fine hilarious, funky English and Japanese vocal by Riyu Konaka (on track Umami), nice vocal additions by Phusion (on Paris Afar Off), by KCentric on several tracks (some of the highlights Seagreen and Thru The Valley) and by HexylCircle and SilviaO on Levantine Daydream.
On my favs Seagreen and Levantine Daydream Murat Ses' Anatolian-tuned synthesizers add a unique atmo to the overall sounding.
A great album to enjoy, full with Murat's sounds (typical organ solos reminding me of his earlier works but in a very different contemporary way) and songs composed during his stays in the USA (New York and Miami), Austria and Turkey (Bodrum) enriched with a good choice of vocalists from all over the world.
And exquisite artwork and liner notes by ÖpBe.
For more information check: http://www.muratses.com and http://www.clourecords.com
Further reading on Murat Ses and his unique styles Anadolu Pop and Electric Levantine: http://en.wikipedia.org/wiki/Murat_Ses