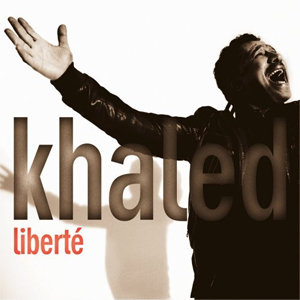 Khaled
Liberté (Wrasse Records)
Khaled, the King of Raï, is back with an emotional explosive collection of songs. Liberté, set for release on August 25 on the Wrasse Records label, serves up Khaled's spectacular vocals in a series of new and reworked old songs, steeped in a delicious melange of African Raï, sweeping Middle Eastern strings and meaty Moroccan Gnawan trance, spiced with layered synthesizers, dashes of oud and ney and a piquant mix of darbuka and percussion. With producer Martin Meissonnier, noted for his work with the likes of Fela Kuti, Seun Kuti, King Sunny Ade and Amina, Khaled dishes a sound that moves effortlessly from the bright and breezy to the evocatively emotional to jazz tinged reminiscences, summoning up an evocative musical hotpot.
Liberté opens with a short, thickly exotic intro piece before moving into the sassy "Hiya Ansadou" or "Come On, Let's Go." This track is all sparkly fun, and with the lyrics "Come On let's go, my friends/We're off, it's the pits here!/There's only sadness and anger" there's nothing but sheer joyfulness here. "Raikoum," with its accordion work by Khaled, spits fire with Khaled's signature vocals and some saucy brass and back up vocals
"Ya Bouya Kirani" shimmers with the heartbreak found in Khaled's vocals against lute, ney and chunky percussion. Liberté is full of gems like the brightly colored "Gnaoui," a Gnawan inspired track, and the richly elegant "Zabana," a tribute to Ahmed Zabana, an Oranese hero captured during the Algerian liberation struggle. Khaled's astonishing vocals soar right into the stratosphere on the intro piece and title track " Liberté," while on the subtly jazzy "Soghri" Khaled's interpretation dazzles.
Other treats and treasures include "Yamina," the poignant "Papa" and the soulful "Sbabi Ntya." Saving the best for last, "Ya Mimoun" and its intro section close Liberté with a richly worked number about a Gnawan sultan.
Liberté pulses with an electrifying vibrancy. Khaled's soul-stirring vocals are potent and stunning against a musical backdrop that's every bit as dynamic as the vocals, making Liberté a get-out-of-the-doldrums-free card.
Buy the recording:
Author:
TJ Nelson
TJ Nelson is a regular CD reviewer and editor at World Music Central. She is also a fiction writer. Check out her latest book, Chasing Athena's Shadow.
Set in Pineboro, North Carolina, Chasing Athena's Shadow follows the adventures of Grace, an adult literacy teacher, as she seeks to solve a long forgotten family mystery. Her charmingly dysfunctional family is of little help in her quest. Along with her best friends, an attractive Mexican teacher and an amiable gay chef, Grace must find the one fading memory that holds the key to why Grace's great-grandmother, Athena, shot her husband on the courthouse steps in 1931.
Traversing the line between the Old South and New South, Grace will have to dig into the past to uncover Athena's true crime.