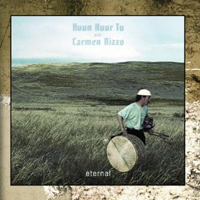 For Huun Huur Tu's latest album, Eternal (Electrophone Music/Green Wave Music; August 2009) the legendary Tuvan band recruited electronic musician and producer Carmen Rizzo (Niyaz, Seal, Paul Oakenfold) and composer/arranger Mark Governor , who has scored dozens of major films.
Huun Huur Tu began their virtual journey by going to Berkeley's legendary Fantasy Studio at the urging of manager Vladimir Oboronko to work with engineer John Cuniberti and make an audiophile-quality recording of their signature songs and instrumental pieces-hymns to sacred mountains, to the forest, to hunters' prey and herds' predators, and to the ancestors symbolized by stone monuments scattered around Tuva's steppes. They worked hard to capture the full sonic spectrum of the horse-hair fiddle, the igil; the shoor, a vertical flute; the bowed byzanche, an erhu-like fiddle with two sets of strings.
Yet despite the spectacular sound, the group felt they could push the music further, and Oboronko began searching for a good engineer to tackle post-production and mixing. Through his friendship with Governor, he was referred to Rizzo, who had a nagging suspicion that this could be way more than a simple mixing project.
"As I listened more in depth and studied the tracks, I knew I could mix it, but it lent itself to a lot more," Rizzo recalls. "I told them, 'If you are open to that, I can show you.' As I began to mix I inched myself into doing more and more and taking different liberties. And as it went on they liked more of what I did. And I kept going deeper and deeper. It evolved into a natural collaboration between Huun Huur Tu and me," one spread over fifteen time zones deep into the Siberian taiga.
Rizzo, without any extensive expertise into Tuvan tradition but "with a lot of respect for Huun Huur Tu," crafted soundscapes around and out of the group's pieces, sometimes carving a new performance-"Dogee Mountain," dedicated to Tuva's sacred Buddhist site-was gently extracted from an old classic like "Orphaned Child," a heartbreaking traditional lament of a motherless child. The grit and the breath captured in Huun Huur Tu's recording expanded under Rizzo's hands, into the sound of the country's broad resonant valleys, dark forests, and open plains.
These slopes and plains have nurtured nomads for millennia, and the comings and goings through what is now Tuva have left an indelible mark on the diverse faces and songs of the region, which extends culturally into today's Mongolia to the south. Tuvans recognize this link with peoples past by ritually feeding milk or fat to the ancient stone figures scattered about the remote grasslands and carved by waves of Huns and Turks moving west more than a millennium ago.
Musicians like Huun Huur Tu acknowledge this legacy, through songs like "Ancestors' Call" which thanks Tuvans' forbearers for passing down beautiful music. Huun Huur Tu's long-standing member Kaigal-ool learned this music while riding in front of his herding grandfather on horseback during the summer. While they trotted along looking after the animals, Kaigal-ool's grandfather would throatsing as his grandson felt the vibration in his body. As he began to practice for himself, his elders would pass along tips. "There was never any formal musical schooling," Oboronko observes.
Tuvan songs often express sacred gratitude to woodland animals-imitated in songs like "Mother Taiga"-and to the steppe predators that may be merciful to a herder's flocks. "When you are a hunter and herder, in Tuvan tradition you are always in communication with the spirits of the animal world," Oboronko explains. "You are always required to do your part in maintaining the balance between human and animal world. If you are a hunter entering the forest, you sing to appease the spirits."
This intense spiritual heritage was not lost on Rizzo and Governor. But what sounded perfect for an ensemble of temperamental traditional instruments playing in freer tempos and tunings presented a unique challenge to the conscientious collaborators. "When we got the tracks, one thing really concerned me. When they recorded, they recorded almost live," Governor reflects. "There was no absolute, A440 tuning. There was no set tempo. Many other producers would have heard that and said no way. But Carmen worked within those limitations. It was amazing what he could do-and technically quite a task."
Not content to merely slice and sample, Rizzo painstakingly lined up the rough and ready Tuvan rhythms with a click track and tuned synthesizers to work with the horsehair and wooden pegs, "something not very common these days," Rizzo muses. In a third layer, he worked with Governor to arrange strings, and added his signature trumpet and other, Middle Eastern-inspired instrumental touches. "Carmen basically made three records," Governor laughs. "He mixed it, reworked it, and then added live instruments."
Yet after all this hard work, another unexpected hurdle awaited, one rarely encountered even by producers like Rizzo who work frequently with world music artists and long-distance co-creators. Would the seemingly hardcore traditional Tuvan musicians like what Rizzo was up to? And, more importantly, how would they get a chance to even hear it?
While tossing MP3 files around the globe is completely commonplace for many musicians, Huun Huur Tu had to travel four hours over barely improved roads from the Tuvan hinterlands to get to an internet café and listen to a file. It wasn't until they met up with Oboronko in Taiwan for a performance that they got a chance to hear Rizzo's work. "They gave it a thumbs up," Oboronko smiles.
This warm reception of an electronica-infused re-interpretation of their beloved songs may come as a surprise to fans who imagine the group as Tuvan cowboys fresh off the steppe. But Huun Huur Tu has always played with tradition, instilling a contemporary sense of emotion and drama into Tuva's music. Though far from the Web, the musicians grew up listening to rock bands like Pink Floyd, whose music migrated deep into Soviet Russia in the 1980s and whose sound resonates ever so gently on "Sargylarlar." The group's newest and youngest member, Radik Tyulyush, has further funkified its galloping fiddles and sinuous melodies, making his own traditional-style shoor flute out of salvaged PVC pipe.
What began as a blind date will end with a real-life meeting this fall: Rizzo, Governor, and Huun Huur Tu will play together live, kicking things off with a show in Perm, an industrial city in Western Siberia and site of frequent exile under the Soviets. Rizzo feels this live set-up will cement Eternal 's example as a third way for well-known world music acts, an approach that liberates musicians from pure tradition, while eschewing cheesy pop aesthetics. "This isn't your average throatsinging record," Rizzo notes, "but it's also not your typical coffee table or hip bar record. It's a third option."
Buy the CD or MP3:
Author:
World Music Central News Department
World music news from the editors at World Music Central