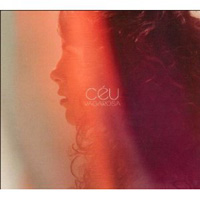 CeU
Vagarosa (Six Degrees, 2009)
Much has been made of CeU's sex appeal, an asset the Brazilian singer doesn't flaunt in the few hazy photos that adorn her new CD Vagarosa. Also getting a lot of press was the fact that her self-titled 2006 debut disc was released outside of Brazil largely through the efforts of Starbucks Entertainment. That's now a non-issue as well, because unless I'm missing something in the small print, the world-dominating chain of coffee klatches had no hand this time around.
So what does CeU now have in her corner? Try talent. That voice of hers, kittenish though it sometimes comes across, can also swell with passion and power when the wielder of it so chooses. And maximizing (but not overplaying) her vocal prowess is not the only smart choice CeU makes on her second album (apart from a prominent role in the 2008 release by the group Sonantes): she also takes further steps beyond identifiably Brazilian musical ideas and puts her signature on them, be they jazz, hip hop or European cabaret.
Towards the end of the voice-and-cavaquinho opening snippet, pops and scratches give the impression of an old vinyl recording until "Cangote" smoothes its way in on a chilled reggae pulse with stammering organ riffs that offset the grace of CeU's multi-tracked voice. Jamaican beats are likewise present on the Babylon-indicting "Cordao da Insonia" and closing song "Espaconave," which goes seamlessly from nyabinghi to funk. But CeU's sultry tones can wrap like a silk ribbon around seemingly anything, be it the sparse, tango-like "Bubuia," "Vira Lata"'s slo-mo samba or "Sonambulo," a marvelously moody piece featuring skittish drumming, melodica jabs and CeU's voice as the sonic equivalent of a shadow lengthening at sunset.
The modern arrangements have the right amount of echoey weirdness to be catchy without stealing the focus, and lest there be any fear of things getting heavy-handed, CeU lets her blithe spirit show on "Papa," a brief English-language interlude where she sings of her father's advice about not being too serious. (It's advice she's obviously taking, given that the sole track in English on her first album was a cover of Bob Marley's sufferer's anthem "Concrete Jungle.") Don't think of Vagarosa as CeU lite, though. It's a smart, satisfying work by a still-emerging artist who could easily fall back on sexy but thankfully prefers substance.
Recordings available:
Author:
Tom Orr
Tom Orr is a California-based writer whose talent and mental stability are of an equally questionable nature. His hobbies include ignoring trends, striking dramatic poses in front of his ever-tolerant wife and watching helplessly as his kids surpass him in all desirable traits.