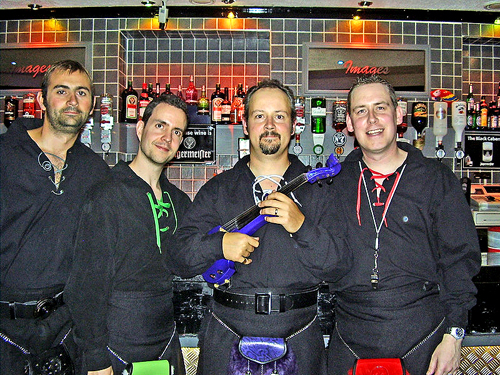 On Sunday the 23rd of August of 2009, Gallus will take to the stage for Bagrock in the Valley, a massive charity concert being held at Castlebank Park, Lanark (Scotland). Headlining the day's entertainment will be the fabulous Red Hot Chilli Pipers supported by Gallus and local girl group Atlanta, who have recently toured the UK with Cascada. Yorkhill Children's Hospital and Radio Clyde's Cash for Kids are set to benefit from the money raised that day and with pipe music, vocal group Atlanta and the unique rock/fiddle sound of Gallus there's something for everyone.
As the Gallus guys put the finishing touches to their set they have brought in guitarist Mark Haining (24) to create a new look, line-up. The band recently performed in Lanark to promote the Bagrock in the Valley gig and showed their versatility with an acoustic set contrasting their familiar "electric ceilidh" sound and also appeared playing their electric set at the P in the Field music festival in Crossford (25th of July). The rest of the group; Aidan Broadbridge (35) playing fiddle, mandolin and keyboard; Graham Watson (36) playing percussion and acoustic guitar; and Mark McCullagh (29) on electric Bass and acoustic guitar are all excited by the prospect of what the next month's performances may bring.
The band also has more good news for their registered fans, deciding to reward one of them with two free tickets to the gig. Any fan who orders tickets via the band's booking agent, Annette, (details are on their website) will be entered into Gallus' very own ticket contest. The fan who orders and buys the most tickets will receive the cost of two tickets back as a way saying thank you from the guys.
Entry for the event is priced at £10.00 with children (14 and under) paying just £7.50. Tickets can also be obtained through the previously advertised channel by E-mailing sales@tickets-scotland.com or visiting www.tickets-scotland.com, although booking tickets in this way won't allow you to enter Gallus' own promotional ticket give-away contest.
More at the band's website www.reverbnation.com/gallus
Author:
World Music Central News Department
World music news from the editors at World Music Central