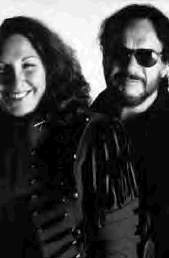 Brazilian jazz innovators Flora Purim and Airto Moreira will be performing at Ronnie Scott's Jazz Club London on Wednesday 19th – Saturday 22nd August (£36/26/20). The club is located at 47 Frith Street, Soho, London.
Flora Purim and Airto Moreira will present the reunion of their band Fourth World. The lineup for the London concerts includes Flora Purim – vocals; Airto Moreira – percussion, drums and vocals; José Neto – acoustic guitar; Luiz Avellar – acoustic piano; João Moreira – trumpet; and Bernardo Moreira – acoustic bass.
The pairing of Airto Moreira and Flora Purim has been one of non-stop success. The Brazilian husband and wife duo are deservedly recognized for their individual talents; Moreira's percussion was a vital part of some of the most important bands in jazz history, especially the forward thinking jazz fusion music of '70s groups Weather Report and Return To Forever. The latter group also featured Purim's astonishing six-octave vocal range, which has added incredible textures to the music of players such as Stanley Clarke, Dizzy Gillespie, Jaco Pastorius, Stan Getz, as well as more less jazz-focused artists like The Grateful Dead.
A five decade marriage has clearly only made the two of them more intuitive to each others' musical sensibilities, as between them they craft songs of melodic intricacy and harmonic beauty.
Fourth World recordings available:
Airto Moreira recordings available:
Flora Purim recordings available:
In North America: Nothing Will Be as It Was…Tomorrow/Everyday Everynight, Stories to Tell, Open Your Eyes You Can Fly, 500 Miles High, Däfos, Encounter, Everyday Everynight, Carry on, Speed of Light, Butterfly Dreams, Speak No Evil, Flora Purim & Airto – Humble People, The Magicians
Author:
World Music Central News Department
World music news from the editors at World Music Central