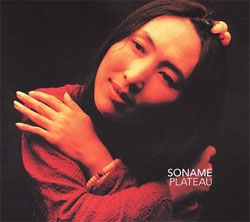 Soname
Plateau (World Village, 2009)
Soname Yangchen's journey would be considered remarkable with having been born in Chinese-controlled Tibet, separated from her family and surviving the dangerous journey across the Himalayas to India with escaping monks to her desperate life in Dharamsala, but to add to that life a keen musical sense and a powerful voice just makes her extraordinary. If that weren't enough, her story has been told in her autobiography Child in Tibet (Piatkus Books, 2007) with fellow author Vicki MacKenzie. Discovered singing a traditional Tibetan song at a wedding reception, while making ends meet by working as a cleaning woman, Ms. Yangchen now finds herself leaping headlong into a musical landscape with the recording Plateau, out on the World Village label.
Composing all the songs on Plateau, Ms. Yangchen's Tibetan vocals gallop effortlessly over percussion-charged compositions, soothe sweetly simple tunes and create evocatively meditative spaces with this inviting mix of memories from her homeland. Opening with "Sun and Moon," Plateau imagines a musical mix somewhere in between Tibet and India and East and West, with tabla, Celtic harp and keyboards with Ms. Yangchen's vocals soaring over all.
Flashes of flute, meaty percussion and strings are scattered throughout, but none better than the wide open sound of "Fresh Spring," which evokes the sounds of spring on the Tibetan steppes in and around its quaint composition. "My Horse" is a spectacular romp fashioned out of a tabla ride with flute, Indian vocals and Ms. Yangchen's vocals. Gentle folk melodies peak out in tracks like "Guru Rinpoche" or "Holy Lake," with its country folk feel and the tightly drawn "Mother and I," spare and lovely with vocals against a wall of tabla and rainstick.
Other gems on Plateau include the clarinet and tabla saturated track "Compassion," the vocally riviting "Vulnerable" and the closing, instrumental track "Yak Stampede." Perhaps the most stunning is "Rainbow," with its Indian flute opener and background chant chorus. Utterly hypnotic, "Rainbow" exists in a dreamy pool of electronica with Ms. Yangchen's vocals woven through the composition like a silver thread.
With first class musicians like tabla player and vocalist Tanmoy Bose, tabla player Sukhvinder Singh Namdhari, percussionists Matt Johnson and Ratul Shankar, keyboardists Mark Ralph (who also plays guitar) and Sourav Roy, flautist Subir Roy, Celtic harpist Phamie Gow, sarangi player Shubhav Sen Mazumdar, clarinet and violist Rev. Rohan K, string player Anne Marie Kirby and Jan-Robert Blumenroth who plays dranyin, 12 string and tenori-on, Plateau shimmers with rich instrumentation, but it is Ms. Yangchen's vocals that are truly astonishing.
Creating overtones and undertones or simply producing heart-stopping vocal leaps like those found on "Vunerable," Ms. Yangchen can evoke a sweetly spare space, a quiet meditative space or simply blow the listener away with a soaring or diving note that is something akin to the rise and fall of a mountain range.
Plateau is a remarkable journey waiting for a rider.
Buy the CD or MP3:
Author:
TJ Nelson
TJ Nelson is a regular CD reviewer and editor at World Music Central. She is also a fiction writer. Check out her latest book, Chasing Athena's Shadow.
Set in Pineboro, North Carolina, Chasing Athena's Shadow follows the adventures of Grace, an adult literacy teacher, as she seeks to solve a long forgotten family mystery. Her charmingly dysfunctional family is of little help in her quest. Along with her best friends, an attractive Mexican teacher and an amiable gay chef, Grace must find the one fading memory that holds the key to why Grace's great-grandmother, Athena, shot her husband on the courthouse steps in 1931.
Traversing the line between the Old South and New South, Grace will have to dig into the past to uncover Athena's true crime.