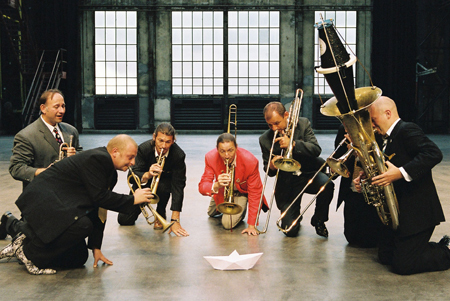 The 2009 edition of Brass: Durham International Festival in England will be held 4-19 of July 2009. Long gone are the days when brass music meant traditional Oom-pah sounds with toe-tapping melodies…. with Brass you're more likely to be joined by a group of Mods and Rockers as the brass genre is being widened to embrace such music as [wiki:ska] and gypsy punk. The festival will be welcoming performers from a host of different countries including Austria, Canada, Ireland, Finland, France, Germany, Holland, Iceland, Macedonia, Mexico] Nigeria and USA.
The superb selection of music on offer will range from afrobeat, ambient, big band, Cajun, Celtic folk, classical, funk, gypsy, hip hop, jazz, salsa, ska, soul and traditional brass – a catalogue of genres ready to unlock the hearts of the world music audience. The headlining acts include: Mnozil Brass (Austria), Jimi Tenor and Kabu Kabu (Finland / Africa), Femi Kuti and Positive Force (Nigeria), Jóhann Jóhannsson and Band (Iceland), Black Dyke Band (UK), Issie Barratt (UK), La Bottine Sourriante (Canada), Boban Marković Orkestar (Balkans), Byron Wallen (UK), the Hypnotic Brass Ensemble (US) and Hot 8 (US) and many more.
Neil Hillier, strategic manager for Heritage and Culture services at Durham County Council, said: "Brass is one of the most recognizable and versatile sounds in world music. For generations of people, brass music has developed into a 'way of life' rather than just being a hobby or pastime. In countries like the US, brass is a career path with aspiring musicians being given the chance to study for brass scholarships, as the thumping sound can be heard at hundreds of sporting venues with the American football and basketball communities embracing its mesmeric qualities."
Brass has long been affiliated with the Armed Forces for being a genre of music with powerful values of unification, and again can be a road towards a precious profession. Another country that has adopted brass as its national sound has been India; almost every wedding, family celebration and public event has a brass band in tow. This cultural influence was mainly introduced during British occupancy in World War I. North East England walks hand-in-hand with the traditions of brass music with it being heavily associated with the industrial era and the mining community.
Brass is a progressive genre that can be heard on some of the most cutting edge recordings of today and of yesteryear, as record producers and composers use brass sections to add a captivating dimension to their music. But the passion of brass will always come to life during live performances, causing the hairs on the back of audience members' necks to stand on end."
Neil Hillier concludes: "Brass has well and truly been embraced as an international institution and where better to showcase its values to the masses than one of the official homes of brass… Durham, England.
"The festival looks to be an innovator and not a follower, as the events have been programmed to represent every possible avenue, from contemporary to traditional; and bring to the boil a melting pot of music that will set a precedent of putting Durham on the map for championing the global values of brass!"
Brass: Durham International Festival is being brought to the world's attention by Durham County Council with support from Arts Council England, North East and is part of Newcastle Gateshead's world-class festivals and events program, managed by culture10 based at Newcastle Gateshead Initiative.
Festival information can be found at the global portal www.brassfestival.co.uk (including line-up, dates, times, ticket prices and amazing offers) – alternatively please call the festival ticket hotline +44 (0) 191 332 4041.
Author:
World Music Central News Department
World music news from the editors at World Music Central