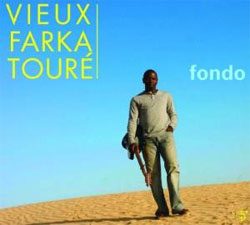 Vieux Farka Touré
Fondo (Six Degrees, 2009)
Drinking deeply from the mystical Malian sound and the musical legacy of his father Ali Farka Touré, guitarist, vocalist and songwriter Vieux Farka Touré has stepped out into his own with his second CD Fondo and landed squarely on the musical map as one of Africa's up-and-coming stars. Since the 2006 release of his self-titled debut recording and touring schedule, Mr. Touré has further embellished his "koroboro rock" sound by tagging Jamaican reggae and hard-hitting rock licks on Fondo to the bluesy, Saharan strains made famous by his father, crafting a sound that is completely his own while still managing to honor his African musical heritage.
Opening with "Fala," Touré dips into a laid back Malian coolness, colored by his own shimmering guitar work and lyrics, as well as electric bass by Yossi Fine and percussion by Tim Keiper. Shifting into the blistering "Aï Haïra," Touré, along with tama drummer Barou and vocalist Afel Bocoum, provides a kick ass battle of tama and guitar that is simply extraordinary.
Touré proves all throughout Fondo that he can tighten composition with his guitar mastery, turning the listener inside out with sparking flashes of neat guitar licks or soothing with shimmering curtains of sound. "Sourba Souba" is just one of those compositions full of a shifting kaleidoscope colors of guitar lines. Joined by Yossie Fine on electric bass and Ganda on n'goni, Touré uses the guitar in this bluesy number as a sharp edge to his vocals.
"Sarama" with Abdoulaye Dassambé on djembe, Mamoutou Tounkara on sabar and additional vocals by Issa Bamba leaps headlong into fast-paced whirlwind, complete with thrumming trance bass line, sizzling guitar licks and ramped up rock percussion. And, Fondo just get better and better with the expressive vocals by Afel Bocoum and tapping rhythms of the bluesy Walé, one of the only tracks not written by Mr. Touré. Instrumental tracks "Slow Jam" with its reggae-tinged opening and rolling Saharan rhythm and charmingly elegant "Paradise" with [wiki:kora] master Toumani Diabaté offer well deserved respite from the more frenetic tracks on Fondo.
One of my personal favorites is the meaty "Diaraby Magni" with its [wiki:reggae] rhythm silkiness and sassy dub production. This track melds the hearty richness of the reggae and the sparkling Malian guitar lines into a funky delight.
Vieux Farka Touré proves on Fondo that his has come into his own sound, a sound that is richly sophisticated and infectiously dynamic.
Buy the CD and MP3 download album:
Author:
TJ Nelson
TJ Nelson is a regular CD reviewer and editor at World Music Central. She is also a fiction writer. Check out her latest book, Chasing Athena's Shadow.
Set in Pineboro, North Carolina, Chasing Athena's Shadow follows the adventures of Grace, an adult literacy teacher, as she seeks to solve a long forgotten family mystery. Her charmingly dysfunctional family is of little help in her quest. Along with her best friends, an attractive Mexican teacher and an amiable gay chef, Grace must find the one fading memory that holds the key to why Grace's great-grandmother, Athena, shot her husband on the courthouse steps in 1931.
Traversing the line between the Old South and New South, Grace will have to dig into the past to uncover Athena's true crime.