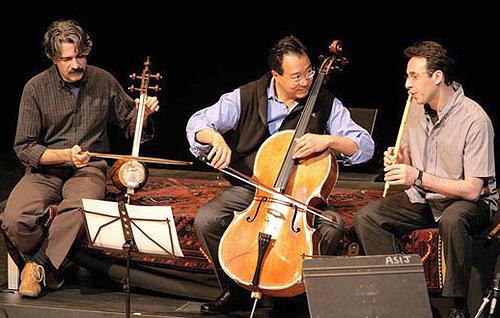 As it celebrates ten years of connecting the world's neighborhoods, the Silk Road Project will present the North American tour of the Silk Road Ensemble with Yo-Yo Ma from March 6-20, 2009, with concerts in Providence, RI; Boston, MA; North Bethesda, MD; Ann Arbor, MI; Minneapolis, MN; and Toronto, Ontario. The Silk Road Project, a not-for-profit artistic, cultural and educational organization, was founded by renowned cellist Yo-Yo Ma in 1998 as a catalyst to promote innovation and learning through the arts. [A complete tour schedule follows below.]
"During the past ten years, the Silk Road Ensemble has explored connections from ancient times to the present, joining beloved traditions with new knowledge and innovation," commented Yo-Yo Ma. "As we celebrate the Silk Road Project's 10th anniversary, we look forward to sharing with North American audiences some of the wonderful music that has resulted from our exploration of cultural intersections."
The virtuoso musicians of the Silk Road Ensemble, with Yo-Yo Ma, will perform two programs during the six-city tour, each reflecting the diversity of the artists' backgrounds and the cultures of the countries linked by the historical Silk Road. The repertoire will include traditional music arranged by and for members of the Ensemble, as well as newly commissioned works, many of which combine non-Western and Western instruments to create a unique genre that transcends customary musical classification.
A highlight of the tour will be the North American premiere of Layla and Majnun, adapted from a beloved Central Asian opera, which is itself based on a series of ancient Arabian and Persian tales of ill-fated love often likened to Romeo and Juliet. The Silk Road Ensemble with Yo-Yo Ma has created a multimedia chamber arrangement of the opera incorporating mugham, a complex form of vocal expression from Azerbaijan, and instrumentation from Asian and Western traditions. The performances of jLayla and Majnun will feature Alim Qasimov, the leading performer of the opera Layla and Majnun in Azerbaijan for the past two decades, who has been designated an Azerbaijani Living National Treasure, and his daughter Fargana Qasimova, also an accomplished mugham vocalist. A hand-calligraphed libretto and original paintings by set designer Henrick Soderstrom will be projected to create dynamic staging responsive to the music and the story.
The varied tour repertoire will also include works commissioned by the Silk Road Project including:
· Ritmos Anchinos (Anchino Rhythms), which reflects American composer Gabriela Lena Frank's Peruvian-Jewish-Chinese heritage and incorporates Latino/Latin American mythology, archeology, art, poetry and folk music into Western classical forms;

· Sulvasutra by U.S. composer Evan Ziporyn, which is based on an ancient Sanskrit treatise;

· Empty Mountain, Spirit Rain by Angel Lam, a composer who grew up in Hong Kong and Los Angeles, in memory of her grandmother;

· Paths of Parables, a work with narration in five movements by Uzbek composer Dmitri Yanov-Yanovsky, based on Sufi parables;

· Sacred Cloud Music by Chinese composer Zhao Jiping, which was constructed around one of the earliest-known pieces of Chinese music, dating from 640 B.C.E.; and

· Ascending Bird, an arrangement of a traditional Persian folk melody by Silk Road Ensemble members Siamak Aghaei and Colin Jacobsen that tells the "popular mythical story of a bird attempting to fly to the sun."
"Encouraging and presenting new music inspired by Persian, Azeri, Chinese, Central Asian and Indian traditions is one of the most magical aspects of our work," said Laura Freid, chief executive officer & executive director of the Silk Road Project. "As the Silk Road Project celebrates our 10th anniversary, we are pleased to share the creative efforts of our globe-spanning collective of musicians and composers with new audiences in North America."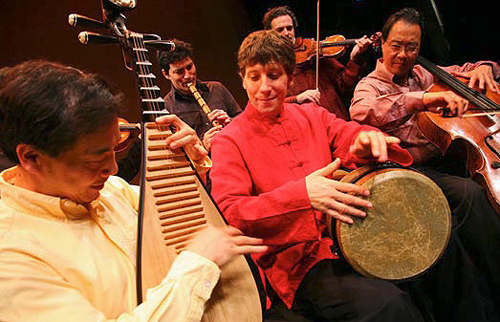 Two educational workshops will also be held during the tour. In Providence on March 4, Rhode Island high school students will attend a special performance by the Silk Road Ensemble with Yo-Yo Ma after having been introduced to a study guide about the music and cultures of the historical Silk Road. Made possible by FirstWorks, this event is being held in conjunction with the Silk Road Project's spring 2009 residency at Rhode Island School of Design (RISD), part of a multi-year affiliation. In Ann Arbor on March 14, Yo-Yo Ma and Ensemble members will conduct a "Creating a Life with Music" performance workshop for music students, moving beyond technique and theory to address musical expression, careers in music and what it means to be a musician in today's global culture.
The tour of North America is one of a series of performances, premieres and innovative educational programs that mark the Silk Road Project's 10th anniversary, which launched in October 2008 with a special performance at the United Nations for U.N. Day. Other concert highlights of the anniversary season include a European tour with festival concerts in England, Belgium, Germany, Switzerland and Romania and a series of performances at Lincoln Center, marking the first performance by the Silk Road Ensemble with Yo-Yo Ma at the New York performing arts campus, including a free outdoor concert in Damrosch Park that will be telecast on Live From Lincoln Center.
The Silk Road Project's anniversary activities are funded in part by the Pershing Square Foundation, the Ford Foundation, and the U.S. Department of State's Bureau of Educational and Cultural Affairs, among other supporters. The Silk Road Ensemble arrangement of Layla and Majnun was made possible in part by the generous support of the Qatar Museums Authority, with additional support from the Academie Musicale de Villecroze and the National Endowment for the Arts. The world premiere of Layla and Majnun was performed in Doha, Qatar, in November 2008. Frank's Ritmos Anchinos; Ziporyn's Sulvasutra; and Lam's Empty Mountain, Spirit Rain were commissioned by Carnegie Hall through the Weill Music Institute in partnership with the Silk Road Project, Inc. Along with Yanov-Yanovsky's Paths of Parables, commissioned by the Silk Road Project, Inc., they were performed as world premieres at Carnegie Hall in September 2006.
About the Silk Road Project
The Silk Road Project is a not-for-profit artistic, cultural and educational organization with a vision of connecting the world's neighborhoods by bringing together artists and audiences around the globe. Cellist Yo-Yo Ma founded the Project in 1998 as a catalyst to promote innovation and learning through the arts. The Silk Road Project takes inspiration from the historical Silk Road trading route as a modern metaphor for multicultural and interdisciplinary exchange. Under the artistic direction of Mr. Ma and the leadership of CEO and Executive Director Laura Freid, the Silk Road Project presents performances by the Silk Road Ensemble, engages in cross-cultural exchanges and residencies, leads workshops for students, and partners with leading cultural institutions to create educational materials and programs.
The Silk Road Project is affiliated with Harvard University and Rhode Island School of Design, where the Silk Road Ensemble holds regular residencies to promote cross-cultural and interdisciplinary interaction with students and faculty. Developing new music is a central mission of the Silk Road Project: the Project has been involved in commissioning and performing more than 60 new musical and multimedia works from composers and arrangers from around the world.
Recordings available: Silk Road Journeys: Beyond the Horizon, Silk Road Journeys: When Strangers Meet, New Impossibilities, and Traditions and Transformations: Sounds of Silk Road Chicago
About Yo-Yo Ma
The many-faceted career of cellist Yo-Yo Ma is testament to his continual search for new ways to communicate with audiences and to his personal desire for artistic growth and renewal. Mr. Ma maintains a balance between his engagements as a soloist with orchestras worldwide and his recital and chamber music activities. His discography encompasses more than 75 albums, including 16 Grammy award winners. One of Mr. Ma's goals is the investigation of music as a means of communication and a vehicle for the migration of ideas; in 1998 he established the Silk Road Project to promote the study of cultural, artistic and intellectual traditions along the ancient Silk Road trade routes.
Mr. Ma was born in Paris to Chinese parents who later moved the family to New York. He began to study the cello at the age of four, attended the Juilliard School, and in 1976 graduated from Harvard University. He has received numerous awards, including the 1978 Avery Fisher Prize, the 1999 Glenn Gould Prize, the 2001 National Medal of Arts, the 2006 Sonning Prize, the 2006 Dan David Prize, and the 2008 World Economic Forum's Crystal Award. In 2006, he was designated a United Nations Messenger of Peace by then Secretary-General Kofi Annan. In 2007, Secretary-General Ban Ki-moon extended his appointment.
About the Silk Road Ensemble
The Silk Road Ensemble is a collective of internationally renowned musicians, composers, arrangers, visual artists and storytellers from more than 20 countries. Each Ensemble member's career illustrates a unique response to what is one of the artistic challenges of our times: nourishing global connections while maintaining the integrity of art rooted in authentic tradition. Many of the musicians first came together under the artistic direction of Yo-Yo Ma at a workshop at Tanglewood Music Center in Massachusetts in 2000. Since then, in various configurations, Ensemble artists have collaborated on a diverse range of musical and multimedia projects, presenting innovative performances that explore the relationship between tradition and innovation in music from the East and West. The Silk Road Ensemble has recorded four albums and performed to critical acclaim throughout Asia, Europe and North America.
Concert Tour: North America, Silk Road Ensemble with Yo-Yo Ma:
Friday, March 6, 2009, at 8:00 p.m.: Providence Performing Arts Center, Providence, RI – Program 1
Sunday, March 8, 2009, at 3:00 p.m.: Symphony Hall, Boston, MA – Program 2
Monday, March 9, 2009, at 8:00 p.m.: Symphony Hall, Boston, MA – Program 1
Wednesday, March 11, 2009, at 8:00 p.m.: Strathmore Hall, North Bethesda, MD – Program 1
Friday, March 13, 2009, at 8:00 p.m.: Hill Auditorium, Ann Arbor, MI – Program 1
Saturday, March 14, 2009, at 8:00 p.m.: Hill Auditorium, Ann Arbor, MI – Program 2
Monday, March 16, 2009, at 7:30 p.m.: Orchestra Hall, Minneapolis, MN – Program 1
Tuesday, March 17, 2009, at 7:30 p.m.: Orchestra Hall, Minneapolis, MN – Program 2
Thursday, March 19, 2009, at 8:00 p.m.: Roy Thomson Hall, Toronto, Ontario, Canada – Program 1
Friday, March 20, 2009, at 8:00 p.m.: Roy Thomson Hall, Toronto, Ontario, Canada – Program 2
Program 1
Gabriela Lena Frank Ritmos Anchinos
Harawi para Colquipocro
Charangos de Chincha
Kachampa
Evan Ziporyn Sulvasutra
Sapo Perapaskero Turceasca
Uzeyir Hajibeyov Layla and Majnun
Arr. Jonathan Gandelsman
The Silk Road Ensemble
Jeffrey Beecher, contrabass; Nicholas Cords, viola; Sandeep Das, tabla; Jonathan Gandelsman, violin; Joseph Gramley, percussion; Rauf Islamov, kamancheh; Colin Jacobsen, violin; Yo-Yo Ma, cello; Ali Asgar Mammadov, tar; Alim Qasimov, mugham vocals; Fargana Qasimova, mugham vocals; Shane Shanahan, percussion; Mark Suter, percussion; Kojiro Umezaki, shakuhachi; u Man, pipa; Wu Tong, sheng, bawu
Program 2
Silk Road Suite
Improvisation Wandering Winds
Kayhan Kalhor Mountains Are Far Away
Arr. Ljova
Zhao Jiping Sacred Cloud Music
Shane Shanahan Saidi Swing
Rabih Abou-Khalil Arabian Waltz
Angel Lam Empty Mountain, Spirit Rain
Dmitri Yanov-Yanovsky Paths of Parables
I. The Answered Unanswered Question
II. The Preacher's Word
III. Form and Content
IV. Black Angel
V. The Father, the Son and the Donkey
Persian Traditional Ascending Bird
Arr. Siamak Aghaei / Colin Jacobsen
The Silk Road Ensemble
Jeffrey Beecher, contrabass; Nicholas Cords, viola; Sandeep Das, tabla; Jonathan Gandelsman, violin; Joseph Gramley, percussion; Colin Jacobsen, violin; Yo-Yo Ma, cello; Shane Shanahan, percussion; Mark Suter, percussion; Kojiro Umezaki, shakuhachi; Wu Man, pipa; Wu Tong, sheng, bawu; Alastair Willis, guest conductor
Author:
World Music Central News Department
World music news from the editors at World Music Central