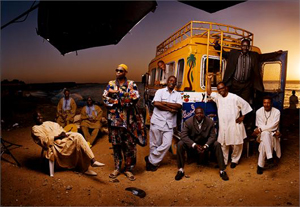 The Barbican will feature some of West Africa's biggest world music acts in April and May of 2009, including Senegal's Orchestra Baobab; Mali's Omou Sangaré, Kasse Mady Diabate and Rokia Traore; and Portugal's Sara Tavares (of Cape Verdian origin).
Monday 6 Apr 7.30pm
Orchestra Baobab + Kasse Mady Diabate
Tickets: £13/18/22
One of Africa's supergroups, Baobab came together in 1970, taking their name from the Dakar night-club where they were resident for most of the following decade. Distinguished from the outset by their multi-ethnic membership, drawing in musicians from all over Senegal as well as Togo and Nigeria, their music was broad and multi-lingual, but with a strong Cuban flavor. Driven by the flowing guitar of Barthelemy Attisso, they reigned supreme until the end of the 1970s, when popular tastes moved away from Latin-influenced music in favor of the more hard-edged and percussive mbalax style championed by the young Youssou N'Dour and his band Etoile de Dakar.
Abroad, their reputation continued to grow through classic albums like On Verra Ça, Pirates Choice and Bamba, even after they dissolved in 1987. But in 2001, a reformed Baobab performed in London at The Barbican's Urban Beats festival and subsequently won twice in the 2003 BBC Radio 3 Awards for World Music. Their 2007 release Made in Dakar showed their class, updating their classic and irresistibly mellow sound with a new edge and a new energy for new times.
Kasse Mady Diabate is one of Mali's most treasured griots and possessor of a golden voice in the same class as the better-known Salif Keita. He came to public attention outside Mali via guest appearances on albums by Taj Mahal and Toumani Diabaté in the 1990s, but had a long career before then, helping the group Super Mande to win the 1973 Biennale festival, before being headhunted by Las Maravillas de Mali, a group which had just returned from Cuba. After some years in Paris trying out more modern sounds – including the dancefloor hit Kaba Mansa – he has since returned to more traditional styles on albums like 2003's acclaimed Kassi Kasse (EMI). He has a new album out on Universal in 2009.
Friday 24 Apr 7.30pm
Omou Sangaré + Sara Tavares
Tickets: £13/18/22
Produced by Barbican
Oumou Sangare is not just the possessor of one of Mali's greatest female voices; she is a taboo-busting protest singer who applies her huge musical gifts to defying tradition in matters of polygamy and women's rights and roles. She calls herself Sangare kono – 'Sangare the songbird' – a term which in Mali is the special privilege of musicians who come from the southern region known as Wasulu, and who use music to comment on life as it is really lived. Born in Bamako, she sold 200,000 cassettes of her first release at just 21 years old and more recently has duetted with stars such as Alicia Keys, Me'Shell Ndégéocello, and Pink Floyd guitarist Dave Gilmour.
Her new CD Seya (Joy) on World Circuit is her first album in six years and sees her attain a new level of sophistication, maturity and variety, all underpinned by her trademark funk-driven Wasulu sound. As with her previous albums all the songs on Seya were written by Sangare. Recording largely in Bamako, she enlisted the Malian arranger and producer Cheikh Tidiane Seck to help her push the boundaries of Wassoulou music with an enlarged musical palette. This is African music made in Africa for Africans – but with an irresistible appeal for an international audience.
Influenced by gospel, funk and soul as a child, stunning vocalist Sara Tavares naturally gravitated towards a musical career. At 16, she won two of Portugal's national song contests, which led to her representing her country in the 1994 Eurovision Song Contest. In 1999 she recorded her debut album Mi Ma Bô with producer Lokua Kanza, combining African rhythms and a pop feel. Her second album Balancê (2006), for which she drew on her family's Cape Verdean roots, won her a wide audience and led to tours of Europe, North America and Japan.
Friday 29 May 7.30pm
Rokia Traore + support
Tickets £10/15/20
Promoted by Serious
Mali's critically acclaimed singer/guitarist returns with guitar-driven bluesy songs and emotive vocals from her latest release Tchamantché (Nonesuch). Known for her stunning live shows, Rokia's music sounds increasingly contemporary and eclectic, yet never loses its distinctively African perspective.
Concerts at the Barbican Hall, Barbican Centre, Silk Street, EC2Y 8DS unless stated
Box Office: 0845 120 7550 www.barbican.org.uk
Buy the CDs:
Author:
World Music Central News Department
World music news from the editors at World Music Central