Durham (North Carolina), USA – Duke Performances announced that it has just secured an exclusive concert with the iconic singer and song-writer Richie Havens. In a double bill, Duke Performances will present Richie Havens  with Algerian rock and rai sensation Rachid Taha on Thursday, April 16, at 8 pm in Page Auditorium. Showcasing Havens' five decades of inspired musical activism—a continuous thread of art, music, and political work begun in the tumult of the 1960s—alongside Taha's politically-charged and often persecuted music, these two powerhouse performers profoundly conclude Duke Performances' Art/Politics/Now series.
Since emerging from the Greenwich Village folk scene of the 1960's and finding global attention with his legendary Woodstock performance in 1969, Richie Havens has continued to give intense and engaged live performances that feature soaring, soulful vocals and powerful, rhythmic guitar. Havens maintains his iconic status as what the UK's Independent calls a "liberation preacher," proclaiming his messages of brotherhood and freedom in world-class collaborations and as a special featured artist at the storied WOMAD Festival. Havens' latest recording is Grace of the Sun.
A rock star to the core, Rachid Taha mixes raï, techno, rock, and punk to sing Arabic wah-wah tunes about exile and racism. The combination of traditional and electronic instruments results in a sound like the Clash being backed by bendir, the North African snare drum. An Algerian now based in France, Taha is a "feral and formidable presence [on stage]," singing with a "throaty roar" as Rai strings "dip and surge like quicksilver [thrusts] of a rapier" (BBC).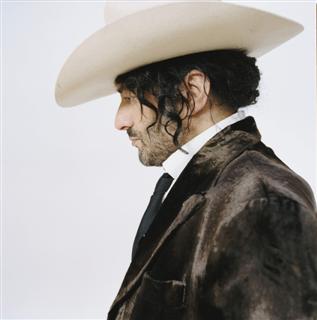 Taha intersperses celebrations of old-school rock—from "Rock the Casbah" to Bo Diddley—with serious and passionate reflections on the cultural strife that have cinched his influential role as a voice for Algerian-Berbers and French-Arabs and that ring with a universal message of humanity. Raha's most recent recordings are Ole Ole (1995), Carte Blanche – Best of (1997), Diwan (1998), Made in Medina (Universal Music/USA: Mondo Melodia, 2000), Live (Ark, 2002), Tekitoi (Wrasse, 2004), and Diwan 2 (Wrasse, 2006).
Richie Havens & Rachid Taha: Exclusive Double Bill
Thursday, April 16, 8 PM
Page Auditorium, West Campus, Duke University
$34, $26, $20; $5 for all Duke Students
Also in the Art/Politics/Now series:
Donald Byrd's Spectrum Dance Company – The Theater of Needless Talents
Thursday & Friday, February 19 & 20, 8 pm, Reynolds Industries Theater
Simon Shaheen with the Aswat Orchestra featuring vocalists Ibrahim Azzam, Sonia M'Barek, Khalil Abonula & Rima Khcheich – World Premiere: Aswat (Voices): Celebrating the Golden Age of Arab Music
Thursday, March 5, 8 pm, Page Auditorium
Ferhat Tunç – Laments for Rebels and Soldiers
Friday, March 20, 8 pm, Nelson Music Room
Vincent Mantsoe – Ebhoflo (This Madness)
Saturday, March 21, 8 pm & Sunday, March 22, 3pm, Hayti Heritage Center
FOR TICKETS: visit dukeperformances.org or call 919-684-4444.
Author:
World Music Central News Department
World music news from the editors at World Music Central