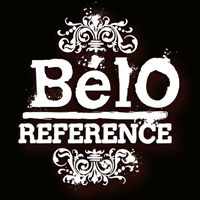 BelO
Reference (Sacem, 2008)
Blending Haitian tradition with modern production and an easygoing flow that goes down like smooth jazz at times, the music of Haiti's BelO is equal parts Caribbean, African, Francophone and worlds beyond. His balladeer's voice and acoustic guitar are prominent throughout these songs of hardship and hope (not exactly uncommon subject matter considering where BelO hails from), giving the tracks an intimate, confessional quality such that the strength of the accompanying arrangements kind of sneaks up you to seal the deal.
The polished- but not sanitized -nature of the music, which is laced with moody keyboards and light programming, does not belie the fact that this is genuine Haitian roots despite the occasional soprano saxophone or synthesized string section. Though I can't help but wonder what BelO would sound like tearing into some grittier material the way such compatriots as Boukman Eksperyans do, what he's done on this tasty disc is a strong meeting of singer/songwriter expertise and melodic craftsmanship. And the presence of such guests as Cameroonian bassist Richard Bona doesn't hurt one bit.
Buy the CD:
In North America:

Reference

Author:

Tom Orr

Tom Orr is a California-based writer whose talent and mental stability are of an equally questionable nature. His hobbies include ignoring trends, striking dramatic poses in front of his ever-tolerant wife and watching helplessly as his kids surpass him in all desirable traits.