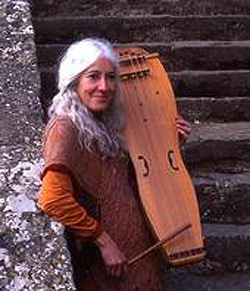 World Music Central's list of musicians, scholars and music industry professionals who left us in 2008.
February
3
Jorge Liderman, 50, composer. Born in Buenos Aires Argentina, Mr. Liderman went on to study at the Rubin School of Music in Israel and the University of Chicago. He joined the faculty of the University of California at Berkeley and is known for orchestral works Shir Eres, Song of Songs and chamber compositions Aires de Sefard and Yzkor.
Jackie Orszaczky, 59, musician. Born in Hungary and later settling in Australia, Mr. Orszaczky was a bass guitarist, arranger and producer working in the fields of jazz, blues, R & B and funk. His discography includes works Family Lore Jackie Orszaczky and the Grand Masters, Deserted Downtown and Morning in Beramiada.
4
Chris Anderson, 81, pianist. Mr. Anderson was a jazz pianist who started out in the Chicago club scene in the 1940s. He is best remembered for his work with bassist Bill Lee and drummer Art Taylor and being mentor to Herbie Han*censormode*.
Tata Güines, 77, musician. Born Federico Aristides Soto y Alejoá in Cuba. Mr. Güines became a noted tumbadora or conga drummer and composer in the Cuban jazz scene. In the 1950s, he formed the band Quinteto Instrumental de Musica Moderna that was later known as Los Amigos. He moved to New York in 1957 and played with the likes of Dizzy Gillespie and Miles Davis. He played on the Latin Grammy-winning Lagrimas Negras, featuring pianist Bebo Valdes and flamenco singer Diego El Cigala in 2004.
Schoolboy Cleve, 82, musician. Born in Louisana, Mr. Cleve became a blues musician, playing the harmonica and guitar. Mr. Cleve played with likes of Lightnin' Slim, Muddy Waters and Buddy Guy.
Winston Walls, 65, musician. Known as a soul and jazz Hammond B3 organist from West Virginia, Mr. Walls was the son of pianist Harry Vann Walls. Working with Bill Doggett, Dionne Warwick and Sonny Stitt, Mr. Walls is also remembered for the 1993 album Boss of the B-3 with Jack McDuff.
6
Rufino "Chano" O'Ferral, 64, musician, singer and composer. Starting out banging on pots and pans and ultimately earning the nickname "Chano" after the Cuban conguero Chano Puzo, Mr. O'Ferral joined Roy Ayers's Ubiquity in the early 1970s playing congas, percussion and singing. He is also remembered for composing the songs "Love is Love" and "Live is Just a Moment."
7
Benny Neyman, 56, singer. Born in the Netherlands, Mr. Neyman is remembered for his 1980 song "Wk Weet Niet Hoe" and 1985 hit "Waarom Fluister Ik Je Naam Nog." In 1996, he was awarded the Golden Harp award.
9
Scot Halpin, 54 musician. Born in Muscatine, Iowa, Mr. Halpin is remembered for sitting in for Keith Moon at Cow Palace concert by The Who. He was subsequently awarded "Pick-Up Player of the Year Award" by Rolling Stone in 1973. He later went on to become a composer at the Headlands Center for the Arts in California and played in bands like Funhouse, folklore and Plank Road. He also managed the punk club The Roosevelt with his wife.
10
Freddie Bell, 76, musician and singer. Mr. Bell was a trombonist, bassist, drummer and singer. His first band the Bellboys were known as the first white bands to play R & B songs. They recorded "Hound Dog" for teen Records and went on to record "Giddy-Up-A Ding Dong" on the Mercury label. Later the group would appear in the 1964 film Get Yourself a College Girl.
12
John Brunious, 67, musician. A jazz trumpeter and bandleader for the Preservation Hall jazz Band based in New Orleans, Mr. Brunious was devoted to the preserving the older styles of jazz.
Wilson Hermosa González, 64, musician and composer. A Bolivian musician, Mr. Hermosa formed the group Los Kjarkas with his brothers Castel and Gonzalo along with Edgar Villarroel. He was known his adeptness at the charango.
13
Smoky Dawson, 94, performer. Known as Australia's first singing cowboy, Mr. Dawson starred on his radio show, The Adventures of Smoky Dawson. His latest CD Homestead of My Dreams was released in 2005. In the same year, Mr. Dawson was inducted into the Australian Record Industry Association Hall of Fame.
Henri Salvador, 90, singer and musician. Born in French Guiana, Mr. Salvador went on to accompany singers on guitar, play at the Ray Ventura et Ses Collégiens and appear in shows and movies. His discography includes "Maladie d' Amour," "Une Chanson Douce," "Mais Non, Mais Non" and "Blues Dingue."
15
Willie P. Bennett, 56, singer. Born in Canada, Mr. Bennett was a folk singer/songwriter. His career includes recordings Tryin to Start Out Clean, The Lucky Ones, Collectibles and Heartstrings in 1988 that won him a Juno Award for Best Roots and Traditional Album .
Joaquim Costa, 72, musician. rock and roll musician, Mr. Costa has been credited for spreading rock and roll music in Portugal. He's known to have recorded versions of "Rip It Up" and "Tutti Frutti" as Joaquim Costa and His Comets. He later founded the group Os Jotas do rock.
Maria Dolors Laffitte, 59, singer and songwriter. Ms. Laffitte was a leading figure in the Catalan and Occitan folk music scene. Over her career she released more than 40 recordings that included solo and collaborative works. She was known for researching and recovering folk, Medieval, Early Music, Sephardic song and Catalan poetry. She formed groups La Corranda and L'Arc en el Cel, as well as Els Trobadors and Ensemble Llull. Her discography includes Cançons Occitanes and Canciones Tradicionales de Cataluña.
16
Bobby Lord, 74, musician. Performing on his own television show, The Bobby Lord Homefolks Show out of Tampa, Florida, while still in his teens, Mr. Lord went on to perform in the Ozark Jubilee and later on at the Grand Ole Opry. Recording country and rockabilly on the Columbia, Hickory and Decca labels, Lord's discography includes No More, No More, No More! / Why Were You Only Fooling and Peace Of Mind / They've Got Something In The Country.
Charlie Ryan, 92, musician and songwriter. Ryan was a touring musician with Jim Reeves and Johnny Horton, but is perhaps best known for co-writing the hit single "Hot Rod Lincoln" with W.S. Stevenson.
18
Jim Jones, 57, musician. Mr. Jones was guitarist for the experimental rock band Pere Ubu from Cleveland, Ohio with such recordings as Cloudland, One Man Drives While the Other Man Screams and The Tenement Year.
19
Yegor Letov, 43, singer. Mr. Letov was singer and founder of the Russian punk rock band Grazhdanskaya Oborona. The heavy-handedness of Letov's lyrics speaking out against militarism and the war in Afghanistan and the USSR strict censorship rules, Grazhdanskaya Oborona recorded much of its work in secrecy. The group's last recording What Dreams Are Seen For was released in 2007.
Teo Macero, 82, musician and record producer. jazz saxophonist and co- founder of the Charles Mingus' jazz Composers Workshop, Mr. Macero recorded jazzJazzical Moods with Mingus. As a producer at Columbia, he produced such classics as Kind of Blue and *censormode*es Brew with Miles Davis and Time Out with Dave Bruebeck.
20
Bobby Lee Trammell, 74, singer. Country and rockabilly singer, Mr. Trammell was known for singles "Shirley Lee" and "I Sure Do Love You, Baby."
21
Joe Gibbs, 65, producer. Jamaican reggae producer, Gibbs's label produced such favorites as The Ethiopians, The Heptones and Delroy Wilson. Later he founded the labels Jogib, Pressure Beat, Record Mart and Shock. He is best remembered for the recording Two Sevens Clash.
22
Nunzio Gallo, 79, singer. Mr. Gallo represented Italy in the 1957 Eurovision Song Contest by performing "Corde Della Mia Chitarra." He would become an actor appearing in film.
24
Alan Dargin, 40, musician. A didgeridoo player from Wee Waa, New South Wales, Australia, Mr. Dargin's career includes performances with the Vienna Philharmonic and the London Symphony Orchestra to Robert Plant, Jimmy Page and Tommy Emmanuel. His discography includes DidgeriDuo with Gary Thomas and Bloodwood: The Art of the Didjeridu with Michael Atherton.
Larry Norman, 60, singer and songwriter. Known as the "father of Christian rock music," Norman's career includes the recordings Upon This Rock, So Long Ago the Garden and In Another Land.
25
Genoa Keawe, 89, singer. Known as Aunty Genoa of Aunty Genoa's Hawaiians, Ms. Keawe was devoted to the preservation of the songs and traditions of Hawaiian music. Recording professionally sing the 1940s, Ms. Keawe recorded with 49th State Hawaii Recording Company and Hula Records before founding her own label, Genoa Keawe Records.
Static Major, 33, singer, songwriter and record producer. Born Stephen Ellis Garrett, Static Major was a singer, rap artist, producer and songwriter. He was a member of the R & B group Playa, but is perhaps best known for his appearance in Lil Wayne's "Lollipop." His solo album Suppertime has not been released.
26
Buddy Miles, 60, musician and singer. rock and funk drummer, Mr. Miles was best known as a member of Jimi Hendrix's Band of Gypsys. He went on to work with various musicians and create such recordings as Carlos Santana & Buddy Miles! Live!, We Got To Live Together, Bicentennial Gathering of the Tribes and The Band of Gypsys Return.
Gaspar de Utrera, 76, musician. A revered flamenco singer, Mr. Ultrera was renowned for lending his vocals in the tablaos around Madrid, Spain. His specialty was the bulería.
27
Ray Kane, 82, musician. Master of the slack key guitar, Mr. Kane culled the Hawaiian sound. His discography includes recordings Slack Key: The Black and White Album, Hawai'I Aloha and Holoholo Slack Key.
28
Mike Smith, 64, singer and musician. Lead vocalist and keyboardist for the rock and roll group The Dave Clark Five in the 1960s. He would continue to work with Dave Clark, releasing versions of "Rub It In" and "Sweet City Woman." He would later record with Manfred Mann's Michael d'Abo and write and produce music for commercials.
Author:
TJ Nelson
TJ Nelson is a regular CD reviewer and editor at World Music Central. She is also a fiction writer. Check out her latest book, Chasing Athena's Shadow.
Set in Pineboro, North Carolina, Chasing Athena's Shadow follows the adventures of Grace, an adult literacy teacher, as she seeks to solve a long forgotten family mystery. Her charmingly dysfunctional family is of little help in her quest. Along with her best friends, an attractive Mexican teacher and an amiable gay chef, Grace must find the one fading memory that holds the key to why Grace's great-grandmother, Athena, shot her husband on the courthouse steps in 1931.
Traversing the line between the Old South and New South, Grace will have to dig into the past to uncover Athena's true crime.