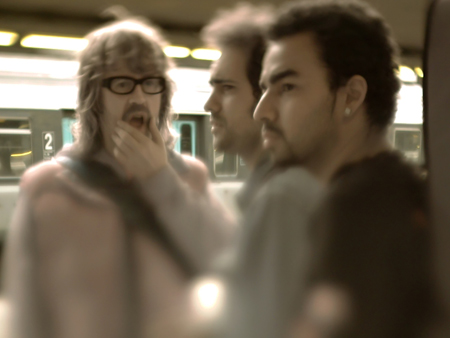 The 2009 edition of globalFEST will introduce audiences to established artists they have not heard before, striking yet unheralded traditions, wild young innovators playing with centuries-old forms, and funky global revivalists of 1970s musical activism.
Many international artists who are the musical toast of their communities remain virtually unknown to the broader U.S. audience. Kailash Kher, a sensation in the Bollywood film world with his Sufi inflected popular songs, a judge of "Indian Idol," and a household name on the Subcontinent, will finally blast onto the American scene, with his band Kailasa in tow. Though most everyone knows calypso, few Americans outside Caribbean communities know Calypso Rose, the grand dame of calypso, who has spent decades writing over 800 songs from fun-loving party numbers usually associated with Carnival, to politically and socially conscious anthems.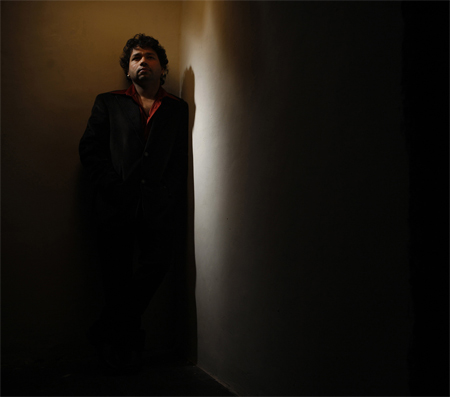 Along with unheralded international icons, globalFEST has always made a commitment to bringing lesser-known genres to U.S. stages too. Paris-based Shanbehzadeh and his son dive deep into the trance-like vocals and compelling rhythms of Boushehr in Southern Iran, a neglected corner of the Middle East, where Persian, African, and Indian sounds have merged for 500 years. Shanbehzadeh's roots go back to the East African island of Zanzibar; his hip-swinging dances, unique bagpipe, striking double flute, and stirring percussion reveal an unexpected side of Iranian music, one steeped in traditions from around the Persian Gulf.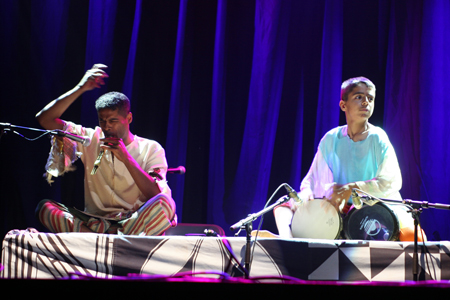 Tradition is never static, and globalFEST has launched numerous young innovators into the limelight. This year's lineup highlights North America's vibrant roots scene from the far north of the Arctic Nunavut to the sultry south of New Orleans. Canadian First Nations vocalist Tanya Tagaq taught herself Inuit throat games out of homesickness as a young woman, but went on to take tradition in a radical new direction, collaborating with artists as diverse as the Kronos Quartet and Bjork.
The young musicians-all under 25-of Hot 8 Brass Band started off playing their mix of hip hop, R&B, and traditional jazz on the mean streets of New Orleans, where several members died due to gun violence, until Hurricane Katrina and Spike Lee launched the group into the national spotlight with an appearance in Lee's film When the Levees Broke. The Occidental Brothers Dance Band International reflect the Windy City's musical past and cosmopolitan present in their NYC debut, bringing a blend of Ghanaian highlife and Congolese rumba with the avant-garde jazz, house, and indie rock vibes that have put Chicago on the musical map.
Europe is also bursting with new takes on old sounds. France's L&O, led by violinist Oliver Slabiak of klezmorim Les Yeux Noirs, (a standout group in globalFEST's inaugural edition), will make the US debut of a new project with his operatically trained vocalist wife Laure, bringing their swinging and cosmopolitan update of French chanson.
Scandinavia has been jumping in recent years with a roots revival scene, epitomized by the young Norwegian hardanger fiddle trio, Valkyrien Allstars, who add a rock intensity to the songs of Eastern Norway in their first US appearance. In the mestizo spirit of their compatriots Manu Chao and Ojos de Brujo, La Troba Kung-Fú stays true to the Catalan roots of one of Spain's most popular musical exports, the infectious flamenco-inflected rumba catalana, while gleefully adding elements from cumbia to salsa to dub. Fronted by a be-dredlocked Algerian Jewish singer born in Marseilles, the tribal electronica of Watcha Clan turns the Mediterranean Basin into one big rave, uniting Balkan and Berber beats, four languages, and one mean sampler.
While some emerging musicians find inspiration in older forms, other young, hip artists are rediscovering the brash and bold sounds of the global seventies. More than a stylistic pose, this vintage vamp reengages with that decade's themes of struggle and rebellion while keeping it distinctly funky. Femi Kuti, son of the iconic Fela Anikulapo Kuti, keeps Afrobeat alive with his band The Positive Force by incorporating the club sounds of today with the politically involved ethos of yesteryear; Femi is committed to combating AIDS and other vital causes.
Performing for the first time outside of Brazil, Rio's Marcio Local extends the legacies of influences like Jorge Ben and Banda Black Rio, standing at the crossroads of two great traditions in modern Brazilian music, Afro-Brazilian samba and'70's soul, to create an undeniably cool and funky ode to political change and carioca life.
Led by Olivier Conan, French imigri and owner of the influential nightclub Barbes, New York's Chicha Libre keeps the spirit of Amazonian psychedelic surf-cumbia alive, playing Peruvian gems alongside funky originals in the era's care-free, syncretic style.
Drawing on the bounty of sounds, styles, and approaches exploding around the world, globalFEST has opened minds and doors for outstanding international artists and contributed to this goal. "What we've done is successfully demonstrated the full range of styles that fall under this rubric of 'world music,'" Bragin notes. "We helped open up the definitions of the genre, and helped presenters and artists come together to discover exciting new booking horizons, all the while bringing music fans in New York City one of the annual concert highlights of the year."
globalFEST is a volunteer-run co-production of World Music Institute, Joe's Pub at the Public Theater, and Acidophilus: Live & Active Cultures. Support for all six editions has been provided by The Cultural Services of the French Embassy with additional support from the French Music Export Office and Cultures France, recognizing France's pre-eminent role as a hotbed of global music activity. globalFEST is presented in association with Bowery Presents.
Visa services are provided courtesy of Tamizdat. La Troba Kung-Fú's performance is supported by the Institut Ramon Llull. Tanya Tagaq will appear at globalFEST thanks to support from the Canada Council for the Arts and the Foundation for Assisting Canadian Talent on Recordings (FACTOR).
Tickets, which go on sale on November 10, cost $40 for general admission, with a special early-bird price of $35 for general public (18+) through November 30, and are available online at www.ticketmaster.com, or via telephone at 212-307-7171.
Tickets can be purchased with no service charges, cash only, at the Mercury Lounge 217 East Houston Street, Manhattan, Mondays – Saturdays, 12 noon – 7pm. For additional information, contact the World Music Institute box office at 212-545-7536. The artist line up is subject to change.
CALYPSO ROSE – The legendary Queen of Calypso
CHICHA LIBRE – Psychedelic surf cumbia from Brooklyn
Femi Kuti & The Positive Force – Afrobeat rebel torchbearer
HOT 8 BRASS BAND – New Orleans street party
KAILASH KHER'S KAILASA – Bollywood's Sufi pop idol
La Troba Kung-Fú – Barcelona's rumba catalana mestizos
L & O – Swinging French chanson
MARCIO LOCAL – Brazil's samba soul innovator
OCCIDENTAL BROTHERS Dance Band International – Chicago's Kings of Highlife
SHANBEHZADEH – Trance music and dance of Southern Iran
VALKYRIEN ALLSTARS – New dimensions in Norwegian hardanger fiddling
Tanya Tagaq – Canada's Inuit vocal experimentalist
WATCHA CLAN – Electric Mediterranean diaspora dance party
Author:
World Music Central News Department
World music news from the editors at World Music Central