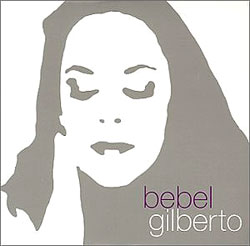 Belgian label Crammed Discs is reissuing on November 18th, 2008 recordings by two of its most popular artists, Bebel Gilberto's "Tanto Tempo" and Suba's: "São Paulo Confessions."
The daughter of João Gilberto (who co-invented bossa nova 50 years ago with his friend Tom Jobim), Bebel Gilberto was living in New York and couldn't get a suitable record label in the US or Brazil when Brussels-based independent label Crammed signed her worldwide back in '99. Released in early 2000 via Crammed's sub-label Ziriguiboom (and entrusted to Six Degrees Records for US distribution), Bebel's debut album "Tanto Tempo" captivated audiences around the globe with its delicate mix of classic bossa nova and cool electronica. It became one of the greatest international successes in the history of Brazilian music, totalling over one million sales worldwide. "Tanto Tempo" was nominated for a Grammy (as were Bebel's successful second and third albums, also produced and released by Crammed).
"Tanto Tempo" was produced by Suba, a Serbian composer/producer who moved to Brazil in the early 90s, and also got signed to Ziriguiboom. Crammed then introduced him to Bebel Gilberto.
Entitled "São Paulo Confessions", Suba's own debut album became an emblematic, cult record, and was the key inspiration for many artists who subsequently blended Brazilian, lounge & electronic music. The album also introduced a very young & talented vocalist by the name of Cibelle, who has gone on to release two great albums on Crammed/Ziriguiboom, with more to come. Tragically, Suba died in a fire which erupted in his flat, a few days prior to the release of "São Paulo Confessions".
Buy the CDs:
Author:
World Music Central News Department
World music news from the editors at World Music Central