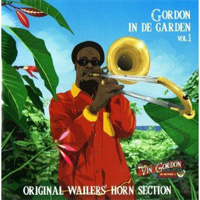 Vin Gordon – Gordon in de Garden Vol. 1 (Masaya Records, 2008)
David Hillyard and the Rocksteady 7 – Way Out East: Live at the Kassablanca (Brixton Records, 2007)
Some of Jamaica's most renowned musicians are horn players. It's a fact that stems from the days of ska, when a horn section was essential. As the (off) beat of Jamaican popular music slowed into rocksteady and eventually reggae, horns were marginalized or sometimes done away with entirely (particularly in live situations). Nonetheless, many of those great players continued playing, enjoying fruitful careers to this day.
One such is trombonist Vin Gordon. He was a pro at a very young age who earned the nickname "Don Drummond Junior" due to his expertise being on a par with the Skatalites' legendary original trombonist Don Drummond. Through the course of more than 40 years in the business, Gordon played in the house bands at Clement Dodd's Studio One as well as with a heap of reggae notables including Bob Marley and the Wailers, The Revolutionaries, Aswad, Justin Hinds and the reunited Skatalites.
Gordon in de Garden Vol. 1 is an instrumental set that showcases his superb artistry in jazz-laced ska, reggae and dub arrangements. Trombone solos are a big part of the proceedings, though the addition of saxophonist Glen Da Costa and trumpeter David Madden (Gordon's partners in the Wailers' horn section) make for a feast of big-blow melodies over hard riddims that range from the opening militant charge of "Addis a Rasta" to the breezy, popish "Melodies in the Hill." Still in peak form, Gordon here reaffirms his position among reggae's top brass (available from www.vin-gordon.com).
Given reggae's globally-reaching influence, it's natural that players outside of Jamaica would get wise to the nuances of the island's horn sounds. In the case of New York-based saxophonist David Hillyard, those nuances entail combining Jamaican ska, rocksteady and reggae with jazz improvisation.
Though Hillyard has done notable work with such Jamaican-flavored bands as Hepcat and the Slackers, it's with his own group, the Rocksteady 7, that the intended Jamaican/jazz duality really shines. You can feel it in every moment of Way Out East: Live at the Kassablanca, recorded at a club in Germany during a 2004 tour. The nine tracks are nice and lengthy with lots of room for solos, dub-soaked passages, breaks and buildups that really let Hillyard and his killer crew stretch out.
Apart from a brief vocal interlude on "Another You" (sung by veteran Jamaican percussionist Larry McDonald, who also gives the band a deeper roots imprint with his nyabinghi-based playing), it's an entirely instrumental affair. Drummer Benny Herson and bassist Dan Jesselson lock it down tight, guitarist Dave Hahn and keyboardist Dave Wake chop away at the music's midsection and Hillyard's fellow horn men- trumpeter Rolf Langsjoen and trombonist Buford O'Sullivan -blaze superbly. Climaxing with a version of the Beatles' "Norwegian Wood," this disc will leave both reggae lovers and jazz heads in a state of bliss (available from www.brixtonrecords.com).
Author:
Tom Orr
Tom Orr is a California-based writer whose talent and mental stability are of an equally questionable nature. His hobbies include ignoring trends, striking dramatic poses in front of his ever-tolerant wife and watching helplessly as his kids surpass him in all desirable traits.