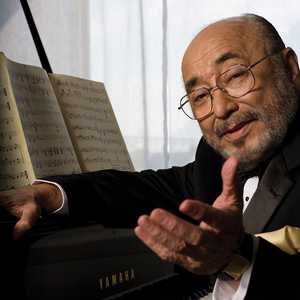 The Pacific Jazz Institute at Dimitriou's Jazz Alley in Seattle presents for six nights, Grammy-winning Latin jazz pianist Eddie Palmieri. Band members are Eddie Palmieri (piano), Conrad Herwig (trombone), Michael Rodriguez (trumpet), Vincent "Little Johnny" Rivero (congas) Orlando Vega (bongo), Yosvany Terry (alto saxophone), José Claussell (timbales), and Luques Curtis (bass). Set times Tuesday and Wednesday are at 7:30PM, Thursday through Saturday at 7:30PM and 9:30PM and Sunday at 7:30PM. Doors open at 6PM Tuesday and 5:30PM Wednesday – Sunday.
The National Academy of Recording Arts and Sciences awarded Eddie Palmieri's latest release, following results for Simpatico, the 2007 Grammy in the "Best Latin Jazz Album" category. Simpatico is a collaboration with trumpet master Brian Lynch. This is Eddie Palmieri's 9th Grammy in a career that spans over 50 years and was awarded on February 11, 2007 at the Staples Center in Los Angeles. In addition, The Jazz Journalists Association awarded the 2007 Jazz Award for"Latin Jazz Album of Year" to Simpatico.
As a bandleader of salsa and Latin jazz orchestras his discography includes more than 32 titles. He has been awarded nine Grammy's, including the first presentation in the Best Latin Album category for his 1975 release The Sun of Latin Music, and the following year for Unfinished Masterpiece. Palo Pa' Rumba won in 1984, Solito in 1985, and La Verdad – The Truth in 1987. He received two Grammy's for his 2000 release with Tito Puente Obra Maestra /Masterpiece, one from the traditional Grammy awards, and one from the Latin Grammy's.
The world has long admired the Harlem-born Palmieri as one of the foremost Latin pianists of the last half-century. His ability to fuse the rhythms of his Puerto Rican heritage with the jazz influences of Thelonious Monk and McCoy Tyner made him an immediate hit when he played New York's Palladium Ballroom in the 1950s and '60s. He has continued to roll on with stylistic innovations over the years, creating classic Tico albums and later mixing salsa with R&B, pop, rock, Spanish vocals and more jazz improvisation.
March 25 – 30, 2008
FROM: The Pacific Jazz Institute at Dimitriou's Jazz Alley
2033 6th Avenue, Seattle, WA, 98121
COST: $24.50 – 26.50
Author:
World Music Central News Department
World music news from the editors at World Music Central