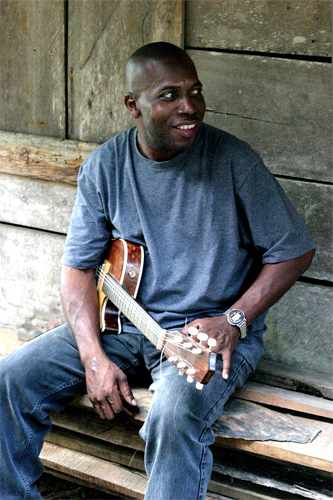 Andy Palacio, an iconic musician and cultural activist in his native Belize and impassioned spokesperson for the Garifuna people of Central America, was declared dead January 19 at 9pm Belize time due to a massive and extensive stroke to the brain, a heart attack and respiratory failure due to the previous two conditions. "Words can't express the sorrow we feel at the loss of such a tremendous person and artist," said in a joint press release Belizean producer and Stonetree Records owner Ivan Duran and Cumbancha label owner Jacob Edgar .
Palacio, 47, started feeling poorly last week and eventually visited a doctor with complaints of dizziness and blurred vision. On the 16th of January, he began experiencing seizures and was rushed to a hospital in Belmopan, Belize and then on to another hospital in Belize City. At this point, most people were hopeful Palacio would recover.On January 17th, Palacio's condition worsened and he began experiencing more seizures. He was placed on an air ambulance to Chicago where he was expected to get treatment at one of the premier neurological facilities in the country. En route to Chicago, the plane stopped in Mobile, Alabama to clear immigration. At that point, Palacio was unconscious and it was determined that he was too ill to continue on the flight to Chicago. He was rushed to a hospital in Mobile, and placed on life support. There, doctors determined that the damage to his brain function was severe, and that his chances of recovery were slim. On January 18th, his family requested that he be flown back to Belize so that he might die in his homeland.
A national hero in Belize for his popular music and advocacy of Garifuna language and culture, news of Palacio's condition sent shockwaves through the community. At 5pm today, a public service was held in Belize City for Palacio as people prayed for his recovery. Ceremonies were also held by Garifuna spiritual leaders in an effort to help with the situation. Belize is in the midst of a heated election, but the local news was entirely dominated by Palacio's health crisis.
The reaction has also been strong around the world. Until the recent turn of events, the past year had been one of tremendous accomplishment for Palacio as his album Wátina , which was released at the beginning of 2007, had become one of the most critically acclaimed recordings of the year in any genre. Perhaps the most unanimously revered world music album in recent memory, Wátina appeared on dozens of Best of the Year lists in major media outlets around the globe and was roundly praised in glowing terms.
In 2007, Palacio was named a UNESCO Artist for Peace and won the prestigious WOMEX Award. Wátina was also nominated for the BBC Radio 3 World Music Awards. At home in Belize, the international success of Wátina has sparked a revival of Garifuna music, as young musicians have become inspired by Palacio's example. Even in the days since Palacio's health crisis began, the accolades have continued to pour in for his work.
That Palacio has been struck down at a moment of such international acclaim only increases the sense of shock and tragedy felt at his sudden and untimely death.
Andy Palacio will be honored with an official state funeral. A massive tribute concert is planned in Belize City on Friday, January 25th.
Ivan Duran and Jacob Edgar are together at the Cumbancha office in Vermont. Ivan will be heading to Belize as soon as possible to attend the funeral ceremonies and the tribute concert that is planned for this coming Friday.
"In the Garifuna culture the death of a loved one is an opportunity to celebrate their memory and rejoice in having been blessed to have had them in your life," said Ivan Duran and Jacob Edgar. "We feel so fortunate to have known this incredible individual and we mourn the loss of truly great man."
"Andy is one of the people I treasure most in the world, both as colleague and long-time friend," said Gerald Seligman, director of WOMEX. "It's hard to fathom that just three months ago he gave one of his best shows and most inspiring speeches, one that told of his people, his music, his mission, when he accepted, with Ivan Duran, the WOMEX Award of 07."
"Andy was one of the warmest, kindest, most gentle souls I have ever met," said Marco Werman of the BBC. "Settlement Day in Dangriga, Belize in 2004, Andy had been up all night, playing concerts in Belize City and then driving with his band to Dangriga. Still, with no sleep, already into the afternoon of the day after the festivities, Andy had sparkles in his eyes. He was ready to give me all the time it took to explain why keeping the music of the Garifuna alive was so important to him."
"Andy and I go back to 1994 when we spent an amazing week together in Cartagena, Colombia during the Caribbean Music Festival and his band and mine (Boukman Eksperyans) shared some very spiritual, musical and human times," said artist manager and Radio-Canada producer Dan Behrman..
In an interview conducted last July, Andy was asked how he wanted to be remembered when he died. He replied, "As a proud Garifuna…someone who instills pride in Garifuna and raises their self-esteem. To me, that's the most important thing."
Friends and supporters are invited to post messages in memory of Andy Palacio to www.myspace.com/andypalacio as well as the blog of his record label Cumbancha.
Author:
World Music Central News Department
World music news from the editors at World Music Central