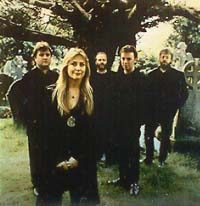 Sunday's program for Celtic Connections 2008 includes Irish Celtic stars Altan, renowned American group Solas, Songs of Scotland, fiddler Gavin Marwick and numerous workshops.
Program:
Public Workshops
Women's Samba
Sun 20 January, 11am
£6
Glasgow Royal Concert Hall, Exhibition Hall
This is definitely the way to start a Sunday morning-a wonderful, releasing, therapeutic class of samba drumming. Big Groove will lead a workshop especially for women to build confidence and have fun exploring samba rhythms. Energizing, invigorating and empowering- loads better than staying home and washing your hair!
come&try
Gaelic Song
Sun 20 January, 11am
£6
Glasgow Royal Concert Hall, Buchanan Suite
Gold medal winner and Young Trad Tour finalist Darren Maclean is a lovely singer from Skye.
Darren will share his songs and enthusiasm for Gaelic singing with students in this come&try session. No knowledge of Gaelic is necessary.
come&try
Traditional Scots Song
Sun 20 January, 11am
£6
Glasgow Royal Concert Hall, Lomond Foyer
Having found your own voice, come and learn some songs with Maureen Jelks. Originally from Dundee, Maureen is one of Scotland's foremost singers in the tradition. This is a great workshop for those who love to sing but have little or no technical training. Maureen will encourage you to find your own harmonies and develop the confidence to sing with your own voice.
come&try
Mandolin
Sun 20 January, 11am
£6
Glasgow Royal Concert Hall, Clyde Foyer
The Lanarkshire Guitar and Mandolin Association are on a mission to get everyone in Scotland to play the mandolin. They will bring loads of instruments and boundless energy and enthusiasm -it's absolutely infectious! Come and have a go! It's great fun and you might just reveal the Captain Correlli within you!
New Voices Series
Gavin Marwick
Sun 20 January, 1pm
£10.50
Glasgow Royal Concert Hall, Strathclyde Suite
Few fiddlers can have had their fingers in more musical pies than Edinburgh-born Gavin Marwick. A past or present member of Iron Horse, Burach, Cantrip, Ceilidh Minogue, the Unusual Suspects and Bellevue Rendezvous, among others, he has also worked extensively in theatre and broadcasting.
Equally renowned as a performer and composer, he has played probably thousands of gigs and festivals around the world, travels which serve as the underlying theme for Journeyman, a newly arranged selection of Marwick's tunes from the past two decades, for which he's joined by longtime pals Fraser Fifield (sax/whistles), Gregor Lowrey (accordion), Ruth Morris (nyckelharpa), Cameron Robson (bouzouki/guitar) and Bob Turner (piano).
Sponsored by Sunday Herald
Public Workshops
Improvers Fiddle
Sun 20 January, 1:30pm
£6
Glasgow Royal Concert Hall, Buchanan Suite
The strathspey is a melodic and rhythmic tune distinctive to Scottish music and Lori Watson, fine Borders fiddler and tutor at Glasgow Fiddle Workshop will introduce her students to playing strathspey tunes and techniques.
Public Workshops
Big Ballad
Sun 20 January, 1:30pm
£6
Glasgow Royal Concert Hall, Lomond Foyer
Do you want to explore the Big Ballad and discover why this style and subject matter is so important to the rich tapestry that is Scottish song? Gordeanna McCulloch and Anne Neilson are two of Scotland's finest singers and wonderful exponents of the ballad genre. They will lead this workshop featuring the big narrative ballads of Scotland. Learn something about the background to these fascinating songs, learn about the people behind them and the ways in which their stories unfold. These are the soaps of yesteryear and yet their stories are as contemporary as we are. You are welcome to bring personal recording equipment.
Public Workshops
Beginners Mandolin
Sun 20 January, 1:30pm
£6
Glasgow Royal Concert Hall, Clyde Foyer
So you're a convert and you want to learn more. Well here's your opportunity to extend your skills on this delectable wee instrument. The Lanarkshire Guitar and Mandolin Association will provide instruments and expert tuition. Fiddle players and guitar players will also find this workshop enhances their skills to complement their playing.
Danny Kyle's Open Stage hosted by Gibb Todd
Sun 20 January, 5pm
Free
Glasgow Royal Concert Hall, Exhibition Hall
Hosted by Danny Kyle's good friends Gibb Todd and Liz Clark, the Open Stage is a chance to see new musical talent as they try to win a coveted support slot at next year's festival – and all absolutely free!
In partnership with the Evening Times
Two Tall Girls: Sophie Bancroft & Christine Hanson
Sun 20 January, 6pm
£10
City Halls, Recital Room
The statuesque pair in question are jazz/folk singer-songwriter Sophie Bancroft and Canadian-born cellist Christine Hanson, whose new duo partnership was premiered with three sellout shows at the 2007 Edinburgh Fringe.
Altan & The Brendan Voyage featuring Liam O'Flynn with The Orchestra of Scottish Opera conducted by David Brophy
Sun 20 January, 7:30pm
£20, £18
Glasgow Royal Concert Hall, Main Auditorium
The first major work to integrate traditional music with classical orchestra, Shaun Davey's 'The Brendan Voyage' (1980) receives its long-awaited Celtic Connections premiere, featuring its distinguished original soloist, Liam O'Flynn, on uilleann pipes, with the Orchestra of Scottish Opera and will be conducted by David Brophy.
A landmark in the development of Irish music, the piece was inspired by historian Tim Severin's 1976 recreation of St Brendan's legendary crossing from Kerry to Newfoundland in a traditional leather-hulled boat.
The 50-member orchestra returns in the second half to accompany Ireland's top traditional band, Altan, for a reprise of their successful shows in Dublin and Galway last September with the RTÉ Concert Orchestra, featuring arrangements of songs and tunes from their 20-year back catalogue by leading Irish composer Fiachra Trench.
Founded in 1980, the highly-regarded Orchestra of Scottish Opera, well known to Celtic Connections audiences from previous festival collaborations, is increasingly in demand as a concert ensemble, staging its own regular performances in Glasgow since 2004.
Julie Fowlis with Chris Wood
Sun 20 January, 7:30pm
£15
ABC
A double-bill encounter between two outstanding contemporary exponents of their respective traditions, both credited with reinterpreting this heritage for a new generation to discover.
The release of Julie Fowlis's second album Cuilidh, in March 2007, was an early high point in a whirlwind year for the North Uist-born singer, gaining unprecedented media attention for a Gaelic artist. A hectic festival schedule included appearances at Glastonbury, Tönder, the Outsider and Runrig's Beat the Drum, with Fowlis also performing memorably on Jools Holland's Later.
She's accompanied tonight by Eamon Doorley (bouzouki), Tony Byrne (guitar), Duncan Chisholm (fiddle), Ewen Vernal (bass) and Martin O'Neill (bodhrán).
Lauded by musical luminaries as diverse as Mícheál Ó Súilleabháin and Laurie Anderson, the singer, fiddler and guitarist Chris Wood creates masterly new versions of venerable English songs alongside his own, equally eloquent compositions, often earning comparisons to Richard Thompson. His second solo album, 2005's The Lark Ascending, has been widely hailed as a contemporary classic. Chris will be joined on-stage by well-known Scottish singer-songwriter Karine Polwart.
The Pearlfishers with Finniston
Sun 20 January, 7:30pm
£12.50
The Classic Grand
Recently celebrated in a one-hour Radio Scotland feature, The Pearlfishers have been part of Scotland's alternative cultural landscape for a good two decades now, their ever-shifting personnel and intermittent recorded output threaded together by the 60s-steeped vision of singer-songwriter David Scott.
Marking the end of their latest hiatus, 2007's Up With the Larks is another idiosyncratic gem, chock-full of the lush vocal harmonies, vibrant guitars and vivid lyrical imagery that have long been the Pearlfishers' trademarks.
Finniston's recently released debut album Organised for Hi Fi showcases their truly interesting and sublime take on modern guitar pop sound. As a group which originally started as a brother and sister duo, there is an open honesty to their song writing.
Harp Heaven
Sun 20 January, 8pm
£12.50
Glasgow Royal Concert Hall, Strathclyde Suite
Sponsored by The Clarsach Society
Almost certainly the first time that twelve top Celtic harpists have shared the same stage, tonight's specially-created performance will no doubt include a wealth of heavenly sounds – together with a liberal dose of musical devilment.
The harp is currently enjoying a particularly exciting renaissance in Scotland, as reflected here in the diverse styles of Corrina Hewat, Mary MacMaster, Patsy Seddon, Catriona McKay, Maeve Gilchrist, Ailie Robertson, Fraya Thomsen, Gillian Fleetwood and Rachel Hair. Joining them from Ireland are Cormac DeBarra and Laoise Kelly, with Germany's Jochen Vogel completing the line-up, for a programme that will range from solo spots to the full dozen-strong ensemble.
www.clarsachsociety.co.uk
Tayside Tae Tennessee
Sun 20 January, 8pm
£12.50
St Andrew's in the Square
Singer-songwriter and fiddler Laura McGhee is joined by US roots and blues stars including Jim Lauderdale and Josh White, Jr., to explore the links between Scottish and Americana music.
Songs of Scotland
Political Songs hosted by Doris Rougvie
Sun 20 January, 8pm
£8.50
Universal
Over the last two years the Songs of Scotland series has looked at different regions of Scotland and the songs that have emerged from these areas.
For the 2008 festival the series looks at different themes that occur in Scots song, mixing Gaelic and Scots, and how they have inspired songwriters and singers throughout generations.
Each of the ten themes will showcase a selection of songs, so each night will see the audience taken on a journey of discovery through different languages, dialects and stories, all linked with one common theme.
Solas with Antje Duvekot
Sun 20 January, 8pm
£16
Old Fruitmarket
Even before they'd released an album, the Boston Herald called Solas 'the first truly great Irish band to arise from America'. Following their triumphant Reunion CD and performances, celebrating their tenth anniversary in 2006 with a full complement of past and present members, few would tend to disagree.
Combining their love of Irish tradition with jazz-inspired improvisational flair and an array of global influences, Solas currently feature multi-instrumentalist Seamus Egan and his co-founder Winifred Horan on fiddle, with Mick McAuley (accordions/whistles) and Eamon McElholm (guitar/keyboards).
Solas also had a hand in the buzz that's fast developing around German-born, Boston-based singer-songwriter Antje Duvekot, covering one of her songs on their Edge of Silence album, before Egan produced her acclaimed 2006 release 'Big Dream Boulevard'. Championed by cult urban troubadour Ellis Paul as 'the next great American folk singer-songwriter', Duvekot's captivating voice and poetic lyrics have drawn comparisons to Patty Griffin, Suzanne Vega and Dar Williams.
Celtic Connections Festival Club hosted by Gibb Todd
Sun 20 January, 10:30pm
£5
Central Hotel
The late night club ensures there is even more music to enjoy after all the gigs are over. Join local and international artists as they make special unbilled appearances or join in one of many sessions happening in the bars.
With food and drink in plentiful supply you can happily keep going into the early hours of the morning whilst witnessing some of the best musical collaborations of the festival.
Master of ceremonies, Gibb Todd returns to present each act on stage and Doris Rougvie hosts The House of Song in a peaceful oasis away from the main stage.
The 15th Celtic Connections festival takes place over 19 days in January and February in 14 venues across Glasgow, Celtic Connections is the UK's premier Celtic music festival, with over 300 concerts, ceilidhs, talks, free events, late night sessions and workshops.
Tickets can be booked:
In person Glasgow Royal Concert Hall
2 Sauchiehall Street
Glasgow, G2 3NY
City Halls and Old Fruitmarket
Candleriggs
Glasgow, G1 1NQ
By phone 0141 353 8000
Online www.celticconnections.com
For further information  check www.celticconnections.com.
Author:
World Music Central News Department
World music news from the editors at World Music Central