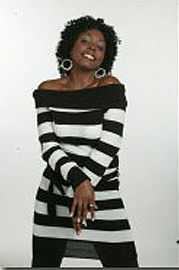 Bridgy is showcasing the talent of Irish-based African women in a festival of African music and dance in Dublin's Village Venue on Nov 24th with proceeds going towards UNICEF's campaign in the plight of the depraved state of the African girl-child. Performances on the night include Bridgy, who will be performing her new album "We Do Ghe", Stella Damascus-Aboderin, Chioma Chukwuka, and Chimere Blessing Emejuobi. Also appearing dance groups from South Africa, Nigeria (Karata & Uaho dance), and salsa with Dr. Rumba Ireland, Ghana, and the Congo (Kwasw Kwasa).
Dublin-based musician & actress Bridget Ogbeiwi Hynes, known as Bridgy, was born and raised in Benin City, Nigeria but has called Ireland home for the past 7 years.On her debut album, she explores the musical and cultural kinship between Africa and world music, specifically her homeland. Her style is unquestionably unique, mixing her native sound with modern pop rhythms and beats. African, upbeat and happy by nature, her music transcends the inspirations of her youth. As a young girl she was encouraged to express her singing talent as a soloist and conductress in the church choir, performing before thousands of people on occasions. One can easily imagine it being enjoyed as much in a hip New York club or on a car radio driving through Ireland in summer as being danced to on the streets of Lagos.
From an early age Bridgy has dreamt of being an entertainer, both as a singer and actress. Inspired by African artists like Angelique Kidjo, Brenda Fassie, Oyenka Owenu, and Lucky Dube, Bridgy recorded her debut Afro-Pop album with producer Rymzo and Peter Bafo, in the Midi Corp Recording Studio in Lagos, Nigeria and Trend studio Ireland. Bridgy has crossed musical boundaries by blending the tribal and pop rhythms of her native West African language with a variety of styles, including Jazz, Gospel, Pop, Funk, Salsa.
During the period spent back in Lagos recording the album, Bridgy made time to feature in her debut film called "Crying Angel," acting alongside Nigeria's top actors including Patience Ozonkwo, Saint Obe, and Ini Edo.
Bridgy has just graduated with a B.A. in Business Management / Law degree, By Liverpool John Moores University (LJMU). As an actress, has been working with the Arambe production company for the past five years and recently featured in play the "Dilemma of a Ghost" directed by Bisi Adigun.
20 Euro (Concession 15 Euro)
Show starts at 7 pm
More information at www.bridgy.eu.
Author:
World Music Central News Department
World music news from the editors at World Music Central