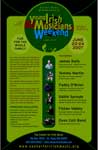 St. Paul (Minnesota), USA – The Center for Irish Music announced its First Annual Young Irish Musicians Weekend June 22-24, 2007 in St. Paul. Classes will take place at McNally-Smith College of Music, with evening concerts held at the Paul & Shelia Wellstone Community Center, run by Neighborhood House.
The weekend is intended as an intensive, high-quality course in traditional Irish music and culture, designed to inspire expert, novice and beginner players alike. The weekend offers intimate daytime instrument workshops lead by world-renowned master artists including James Kelly, Tommy Martin, Paddy O'Brien, Dáithí Sproule, Fintan Vallely and the Doon Céilí Band.
A potpourri of cultural seminars, led by renowned scholars and artists is also offered including overviews on Irish language, history, literature, dance, music and travel tips for families. Nighttime events include a Friday night Irish céilí (social dance) with the Doon Céilí Band, a Saturday night Master Artist concert (students will interview the artists), and a very unique Master/Student recital on Sunday where we will hear what the masters and students worked on over the course of the weekend.
The Young Irish Musicians Weekend places special emphasis on encouraging students under twenty-one years of age to attend, however, due to strong demand, the music workshops have been opened to students of all ages. Over the course of the weekend students will meet other people from around the world who are passionate about their art and culture.
"Irish traditional music is unique in involving all ages and generations in the fullness of its artistry and easy sociability" says guitarist, singer, and weekend instructor Dáithí Sproule. "This event brings masters of the art together with young learners for several days of inspiration, insight and good company". Musicians of other genres are welcome to come and explore the distinct rhythms and styles of Irish music at this weekend event.
This unique, exciting event will inspire musicians in a fun, safe, non-competitive environment. Daytime classes will meet Saturday, June 23rd, and Sunday, June 24th, at the McNally-Smith College of Music in downtown St. Paul. The céilí will take place on Friday, June 22nd and the master-artist concert, on Saturday, June 23rd, both at 7pm at the Paul and Sheila Wellstone Center for Community run by Neighborhood House on St. Paul's West Side. Sunday's recital will take place at 3pm in McNally-Smith's auditorium in downtown St. Paul.
The entire weekend is $225 and cultural programming is available from $25. Concerts on Friday and Saturday night are open to the public for a rate of $10-$15/person or $35-$45/family. Registration and reservations can be made by contacting irish.music@comcast.net.
The Irish Young Musicians Weekend is presented by The Center for Irish Music. The Center for Irish Music is a non-profit organization teaching traditional Irish music to students of all ages on a variety of instruments. Contact The Center for Irish Music via post at P.O. Box 7034 St. Paul, Minnesota 55107 or call 651-493-2022.
More information at www.centerforirishmusic.org.