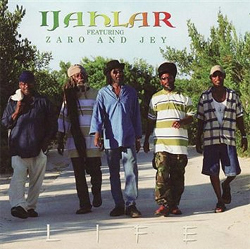 Ijahlar
Life (2007)
For most of us here in North America, Spring is here and soon the weather will be turning to fair skies and warm temperatures. What a better way to ring in the sunny season than kicking back with some hot island sounds from Ijahlar featuring Zaro and Jey.
Ijahlar is 5-piece reggae band is based out of the island nation of Anguilla. The bands' front men, Zaro and Jey have been around the local music scene for many years and have established a solid rep with the who's who of Anguilla's music circles. With influences like Steel Pulse and Bob Marley, Zaro & Jey provide the backbone of Ijahlar and bring a traditional tropical vibe to the sound of the band.
"Life" is the debut full-length offering from Ijahlar. The album was a three-year labor of love for the band and was produced and mixed by dub/reggae legend The Scientist. The album blends a variety of genre stylings and visits roots-reggae and dub-reggae effectively. The 10 tracks featured on "Life" touch on a a variety of subjects but never stray from the irie mood you expect to find on good reggae albums. This is authentic reggae music in a genre that so often watered down by impostors.
So kick off your shoes, get the sunglasses on, sit back and enjoy "Life"!
More information at www.ijahlar.com.