Ricardo Lemvo and Makina Loca – Isabela (Mopiato Music MOPI-2, 2007)
Papa Noël – Cafe Noir (Tumi Music TUMI 141, 2007)
With the symbiosis between African and Latin music established and reaffirmed over the decades and embraced by succeeding generations of listeners, it's the links between the Congo and Cuba that arguably remain the most pronounced. These two new releases, which fortuitously reached me the same day, show the extent to which masters of those Congo/Cuban connections are able to carry them to delightful new heights.
Congolese by birth but presently based in Los Angeles with his superb band Makina Loca, vocalistRicardo Lemvo has built upon an initial melding of salsa and soukous to create an ever-expanding patchwork that's musically seamless and just plain hot. Isabela is his best album yet, with Lemvo embracing classic Congolese rumba on the title track and a cover of the '50s paean "Lollobrigida," giving a Lusophone lilt to "O Casamento (Foi Cancelado)" and the spine-tingling "Serenata Angolana," digging into Cuba's African pedigree with "Malambo" and "Mentirosa" and adding to his multilingual arsenal by singing in Turkish on "Elbette."
Lemvo's voice flows easily from crooner to balladeer to animateur and guest embellishments from the likes of singers Wuta Mayi, Nyboma Mwan'dido and Maria de Barros and such master musicians as legendary Congolese guitarist Papa Noël propel the album to a level of excellence sustained from first note to last.
When he's not lending his glorious guitar sound to projects like Lemvo's and those of Congolese supergroup Kékélé, Papa Noël keeps busy putting out music under his own name. While parts of Cafe Noir carry on in the same manner as Bana Congo, Noel's collaboration with Cuban tres player Papi Oviedo from a few years back, Noel's got a few new places to go as well.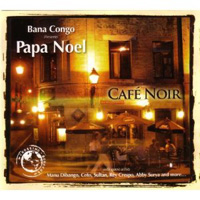 Cafe Noir begins with a version of the familiar jewel "Africa Mokili Mobimba," Noel's guitar quickly taking on a deftly nimble grace that expertly spars with Manu Dibango's sax. The fun carries on from there- Noel's longstanding virtuosity in the vintage rumba style is evident on the title instrumental, but his melding takes shape with such tracks as "Soukous Son" and "Soleil," wherein a new genre- merengue zoukous -crisply combines Africa with both the French and Spanish-speaking Caribbean.
Sonic pleasures abound throughout, not only from Noel's guitar but also from dual blaring trumpets, pulsating percussion (check the way a dose of batá-style drumming cradles the swing of "Latin Reverie"), female backing vocals and an ensemble energy that blissfully settles in and stays put. A marvelous, absolutely glowing piece of work.
Author:
Tom Orr
Tom Orr is a California-based writer whose talent and mental stability are of an equally questionable nature. His hobbies include ignoring trends, striking dramatic poses in front of his ever-tolerant wife and watching helplessly as his kids surpass him in all desirable traits.