World Circuit Presents … (World Circuit WCD 076, 2007)
Ibrahim Ferrer – Mi Sueño (World Circuit WCD 077, 2007)
If you only own one CD from the U.K.'s World Circuit label, chances are it's the wildly successful Buena Vista Social Club disc. But World Circuit (founded and largely overseen by producer Nick Gold, who indeed seems to strike that very substance again and again) has put out numerous essential recordings in their two decades of existence. With a couple of notable exceptions, all of their featured artists are either African or Cuban. While that specialized focus may not qualify World Circuit as a true "world" music label, the unparalleled excellence of the music they've released is undeniable. World Circuit Presents … is a double CD set containing many of their finest tracks. It begins, naturally, with the Buena Vista gem "Chan Chan," a song I doubt I'll ever tire of.
And the goodies just keep flowing- the m'balax/Latin fusion of Cheikh Lô on "Boul Di Tagale," the multi-generational wonder of the Afro Cuban All Stars' "Amor Verdadero," bassist Orlando "Cachaíto" Lopez splitting the difference between Latin jazz and Jamaican dub with "Tumbanga," choice Buena Vista offshoots by Omara Portuondo, Rubén González and Ibrahim Ferrer, Saharan delights by Oumou Sangare, Dimi Mint Abba and Abdel Gadir Salim, Zimbabwean and Kenyan roots courtesy of Black Umfolosi and Shirati Jazz respectively and much, much more.
Even if you have a slew of World Circuit albums already, get this for the previously unreleased stuff including Mustapha Baqbou's lengthy Gnawa trance piece and live selections by the Buena Vista crew and the sorely missed Ali Farka Toure. A top notch selection by a likewise top notch label, very highly recommended.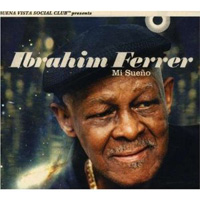 Sadly, a number of World Circuit artists have recently passed away, among them master Cuban vocalist Ibrahim Ferrer. His final recordings comprise Mi Sueño, an album of smoky boleros that show his aged voice still capable of sublime power and sensuality. Piano and acoustic bass are high up in the mix along with Ferrer's plaintive, caressing tones, which warm the ears and heart whether he's crooning full throttle or talk-singing an intimate passage.
The arrangements vary from lavish affairs with string sections to stripped-down settings of equal beauty, and nuances that go from whimsical to melancholic are smoothly handled by Ferrer and his players (including such notables as Cachaito, Robert Fonseca and Manuel Galban). Mi Sueño is the classic Cuban cool that Ferrer and his Buena Vista mates personified, and we can continue to savor it thanks to quietly superb albums like this.
Buy the CDs in:
Author:
Tom Orr
Tom Orr is a California-based writer whose talent and mental stability are of an equally questionable nature. His hobbies include ignoring trends, striking dramatic poses in front of his ever-tolerant wife and watching helplessly as his kids surpass him in all desirable traits.