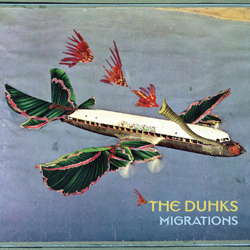 The Indie Acoustic Project (IAP) announced the finalists for the IAP's "Best CDs of 2006" Awards. The 3 finalists in each of 15 categories were selected from the multitudes of CDs that were considered for the awards. "The quality of the CDs submitted was terrific," said an IAP representative. "…and this has lead to the only major problem we faced: because there were far more than 45 excellent CDs (and only 45 finalist slots), many deserving recordings could not be included. In addition to the Best CDs of 2006, the IAP presents its "Songs of Note" awards which recognizes 25 outstanding songs from CDs not featured in the Best CD awards."
Finalists:
The artist's name is first (listed alphabetically within each category), followed by the CD title in italics, followed by the name of the record label (in parenthesis).
Acoustic Ensemble: The Duhks Migrations (Redhouse); Wailin Jennys Firecracker (Redhouse); Waybacks From the Pasture to the Future (Compass).
Alt Country: Railroad Earth Elko (SCI); Sean Watkins Blinders On (Sugar Hill); Yonder Mountain String Band Yonder Mountain String Band (Vanguard).
Alt Rock: Anthill Waiting for the Sun (Self-Produced); Rachael Sage The Blistering Sun (Mpress); State of Man Both Sides of the Story (PolyPlat).
Americana: Michelle Malone Sugarfoot (SBS/Valley); Albert Lee Road Runner (Sugar Hill); Carrie Rodriguez Seven Angels on a Bicycle (Train Wreck/Back Porch).
Celtic: Cara Dillon After the Morning (Compass); Michael McGoldrick Wired (Compass); Solas Reunion (Compass).
Instrumental: David Grisman Dawg's Groove (Acoustic Disc); Lynn Patrick On the Wind (Self-Produced); Johnny Whitehorse Johnny Whitehorse (Silver Wave).
Latin: Moises Gadea Aitimaa (Moka); Lara & Reyes Lara & Reyes (Self-Produced); Roberto Lopez Project Que Pasa? (Curura).
Best Lyrics: Catie Curtis Long Night Moon (Compass); Kobotown Independence (Music Dish); Kris Kristofferson This Old Road (New West).
Multi-Genre: Kaki King Until We Felt Red (Velour); Sarah Metzner Daybreak Mourning (Dog My Cat); Gregory Page Love Made Me Drunk (Seedling/Redeye).
Rock: The Bittersweets The Life You Always Wanted (Virt); Ellery Lying Awake (Virt); The Mains Higher You Get the Higher You Get (Rock Show).
Roots: Kane, Welch, & Kaplan Lost John Dean (Compass); Les Tireux d'Roches …Papier, Ciseaux (Outside).
Songwriter—Female: Beth Amsel The Reverie (Good Egg); Chris Pureka Dryland (Sad Rabbit); Beth Waters This Little Piggy (Mermaid Mafia).
Songwriter—Male: Leroy Bell Two Sides To Every Story (Self-Produced); Corb Lund Hair in My Eyes Like a Highland Steer (Stony Plain); Chuck Pyle True Unity (Zen Cowboy).
World Music-Africa: Idan Raichel The Idan Raichel Project (Putumayo); Various Artists Acoustic Africa (Putumayo); Various Artists One World, Many Cultures (Putumayo).
World Music-Eurasia & Global Beat: Calcutta Express Calcutta Express (Underscore); Bela Lakatos & the Gypsy Youth Project Introducing Bela Lakatos & the Gypsy Youth Project (World Music Network); Markku Lepisto Polku (Aito).
Winners in each category will be announced by April 30.
Winners of the Songs of Note for 2006:
25 other great songs from 2006: (Artist name is first, followed by song title in italics, followed by the CD title in bold, followed by the name of the record label (in parenthesis):
Darol Anger When You Go Generation Nation (Compass); Jerry Barlow Bring Down the Storm Bring Down the Storm (Self Produced); Greg Brown Kokomo The Evening Call (Red House); Shauna Burns Ghosts & Vampires Every Thought (Self-Produced); Sam Bush (w/ Jean Luc Ponty) New Country Laps in Seven (Sugar Hill); Ronnda Cadle The Hurt The River Runs (Rince); Chookasian Armenian Ensemble Almastuh Shoghoom Eh Passage to Armenia (Self-Produced); Jarabe de Palo La Flaca Blues Around the World (Putumayo); William Lee Ellis God's Tattoos God's Tattoos (Yellow Dog); Belinda Gillett Bite Back Someone Hates You (Backwater); John Gorka Road of Good Intentions Writing in the Margins (Red House); Grisman & Statman Anim Zemiros New Shabbos Waltz (Acoustic Disc); Lynne Hanson Things I Miss Things I Miss (Self-Produced); Carrie Hassler Sensabaugh Tunnel Carrie Hassler (Rural Rhythm); Ilyaimy In the Water The Fifth Circle (Self-Produced); The Jeff Jones Band Can't Make You Proud Biscuits & Gravy (Foursome); James Keelaghan My Blood A Few Simple Verses (Jericho Beach); Lunasa Glentrasna Se (Compass); Scott Miller Only Everything Citation (Sugar Hill); Alison Moorer Work to Do Getting Somewhere (Sugar Hill); Derrin Nauendorf Shipwrecked Rattling Wheel (Rising); Dave Potts Twelve Ninety-Nine Twelve Ninety-Nine (Looking Up); Michael Powers Goin' Down Prodigal Son (Baryon); Violet Sumudra Bliss Beyond Bliss Beyond (Self-Produced); Patti Witten Encircled Tell the Wind (Potent Folk).
More information at www.indieacoustic.com.
Author:
World Music Central News Department
World music news from the editors at World Music Central