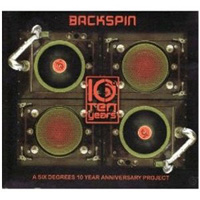 Six Degrees Records, the indie label from San Francisco, has spent the last ten years producing "good music in bad times." And to celebrate that milestone, the label looks ahead to the future by looking back, with a collection of surprising and distinctive covers: Backspin – a Six Degrees 10 Year Anniversary Project.
Backspin features a dozen artists from the label's eclectic global roster, each presenting a new spin on an old favorite. Songs by Led Zeppelin, The Police, The Cure, and Pink Floyd, among others, are re-imagined by Six Degrees stalwarts including Karsh Kale,MIDIval PunditZ, Banco de Gaia, Ojos de Brujo, and more.
For a label that has a reputation as a producer of global pop, this may seem like a strange idea. But as Six Degrees co-founder and president Bob Duskis points out, "we like poking holes in the notion of what 'world music' is, or is not. And to commemorate the anniversary, we wanted to do something surprising and different." Besides, he says, the idea of artists from India, Spain, Iran, or the barrios of California doing their own interpretations of rock classics fits perfectly with Six Degrees' model of mixing old and new. "When you think about it, the music of The Beatles, The Beach Boys, ABBA, and Bob Marley is almost traditional music now, so it made sense for us."
A good example is the MIDIval PunditZ, from New Delhi, doing Led Zeppelin's "Four Sticks." The arrangement stays close to the version on Led Zeppelin's album No Quarter: Unledded, except for the chattering South Asian percussion tracks that are the PunditZ's trademark. "These guys are steeped in Indian classical music," Duskis explains, "but they're also Chemical Brothers freaks, and they love Led Zeppelin. Those records informed their music as much as their own tradition." And as the band notes, "it's easy to see that Led Zeppelin themselves were inspired by the music of the Middle East and India. We also read that the song was originally written in India while the band was traveling. So maybe it's time someone from India gave homage to the greatest band of all time."
Tabla wiz and producer Karsh Kale also does a fairly straightforward version of the Police song "Spirits In The Material World," although again, the whole thing rides on a bed of typically exotic and propulsive percussion. Kale, though, changes one line from Sting's original lyrics: "there is no bloody revolution" becomes "this is the bloody revolution." It seemed, he says, "a bit more fitting for the times."
Los Mocosos, the San Francisco Bay Area's multi-ethnic musical rabble-rousers, also cover a Police song: "The Bed's Too Big Without You" gets a jolt of cumbia rhythm and a dash of Spanish lyrics "to add some Mocoso fun to the tune," as the band puts it.
This collection of indie artists covering songs by some of pop and rock's legendary figures proves the Six Degrees motto: everything is closer than you think. "What that means," Bob Duskis explains, "is that it's not such a long journey from what you already know. If you liked Sade, you'd like Bebel Gilberto."
"We've survived by putting out good music that's unique enough to separate itself from the pack, but still is accessible. We never tried to be so hip that it hurt." If you liked The Police, who made pop music with elements of Jamaican, Middle Eastern, and West African music, you might also enjoy some artists from around the world who draw on the Police as a source of inspiration. And if you liked Pink Floyd, you'd almost certainly dig England's Banco de Gaia, whose version of "Echoes" clocks in here at a Floydian nine minutes.
Backspin includes some inventive covers that completely re-think the originals. The Cure's "Love Song" becomes a slow, languorous ballad in the new version by the Persian-American band Niyaz. And the Spanish group Ojos de Brujo takes Bob Marley off the island of Jamaica and drops him in the middle of Cuba, taking the Marley anthem "Get Up Stand Up" and transforming it into a piece of infectious Latin hip-pop, with Cuban rhythms, Spanish lyrics, and English rap.
Even more startling is the version of Abba's "The Day Before You Came," which is reinvented as a kind of dark-hued radio play by The Real Tuesday Weld. And the UK duo known as Shrift plays "God Only Knows" as if Dusty Springfield had sung it instead of The Beach Boys – there isn't a vocal harmony to be found, just Nina Miranda's willowy voice and Dennis Wheatley's subtly cinematic accompaniment.
Backspin also features a look ahead at two of Six Degrees' Emerging Artists, one of the new adaptations as the record label evolves for the digital age. The vibraphonist/keyboardist/producer known as MNO offers an instrumental version of the Beatles' "Julia," presented as a kind of Indonesian-gamelan/music-box mash-up.
MNO's ringing, chiming percussive sounds are in striking contrast to fellow Emerging Artist Rara Avis, who takes the Jimi Hendrix classic "6 Was 9" and sets it over a downtempo groove. Both musicians are part of the new Six Degrees series of digital only releases – speedy, flexible productions that are released digitally. Bob Duskis likens it to a baseball team's farm system: if a digital EP succeeds, a full-length CD is the next step. In the meantime though, at a time when it can be prohibitively expensive for a record company to take a chance on an unknown artist, Six Degrees' Emerging Artists Series is a way to give exposure to musicians at the beginning of promising careers.
Rounding out Backspin are the Bombay Dub Orchestra's trippy version of "Theme to 'Get Carter'" (an influential piece of proto-Indian groove music from the UK) and a musical homage to Herbie Hancock from dZihan & Kamien, who contribute a version of the landmark song "Rockit." For all the surprising connections and parallels this collection draws, though, there is another, simpler reason for Backspin: "I just love a great cover song," says Duskis. "It's so interesting when someone really puts their own stamp on a great song."
Buy Backspin.
Author:
World Music Central News Department
World music news from the editors at World Music Central