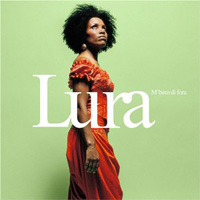 Paris, France – Lura is a young artist whose origins come from Cape-Verde, but who grew up in Portugal. She has a new album tited 'M'bem Di Fora,' which was released in late November. The new CD will automatically be distributed in the UK and in Spain by Lusafrica, and thanks to the label's many partnerships with other distributors; Lura will have the opportunity share her music with a large part of the planet's population.
In Germany, Austria and Eastern Europe, the album was licensed to Sony BMG. For the USA, the album was licensed to Times Square Music and will be available in March 2007, right before an American tour.The CD was also released at the end of November in Italy through Edel Italia, where the first album encountered significant success. To promote M'bem Di Fora, a promotional trip to Milan was organized. And finally, a sold out concert in Rotterdam allowed the disc to see the day in Benelux, distributed by Coast To Coast.
On CD or on stage, Lura performs at best the 'Batuque', the most African of rhythmic standards practiced in Cape-Verde.
Her name is growing bigger, as the press and professionals agree to see in her a mighty potential to gain Cesaria Evora's level of fame; being signed on the same label as hers: the Paris based Lusafrica.
Lura has previously released an album in 2004, Di Korpu Ku Alma, which has already experienced international success, with 7,000 discs sold in Portugal and 10,000 in Italy. The same recording has attracted the attention of the US and Japan, thus being widely distributed in those two countries.
Author:
World Music Central News Department
World music news from the editors at World Music Central