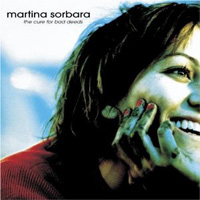 Martina Sorbara
Cure for Bad Deeds (Nettwerk)
Before I begin the review of Martina Sorbara's debut CD, I would like to mention that I haven't lost my mind or purpose for starting Cranky Crow World Music. And I am not going to start reviewing pop music on this site. The review of Martina's CD, Cure for Bad Deeds is the only exception to the rule. Why? Well, we all have our guilty pleasures and this 23 year old ballsy Canadian singer-songwriter crafts songs that get under your skin and move things around.
Her gutsy tunes possess candor, street wisdom and soulfulness often found in veteran performers who have been around the block a few too many times and this is just a debut release. We haven't heard anything yet. If Martina refuses to cave into music industry demands, she'll soon be joining ranks with Ella Fitzgerald, Joni Mitchell and any blues diva, you fill in the blank.
So who is Martina Sorbara, other than the resourceful girl who grew up in rural Ontario and attended the alternative Waldorf School, who learned how to build guitars and design clothing? Who is this young woman who has been around the block a few too many times, sexually speaking and lived to tell her tales? She's brazen and she can knock you dead with her well aimed words. She is the fresh face girl next door with a few dirty secrets and a Cheshire grin. In many ways, she has joined forces with the Ani Difranco's of the world and she's gonna tell you how it is, not how you wish life to be. You can read her lyrics and listen to her womanly gasps, sighs; croons that appear on her CD and you'll still be left with an insolvable mystery.
Most of Martina's songs that appear on the Cure for Bad Deeds revolve around sorrowful events that reflect on errors of judgment. Sometimes these reflections prove painful to listen to since the lyricist comes off as a coyote that keeps setting its tail on fire. She longs for adventure losing her love interest (Undone), she blows up at the one she is suppose to love (Call Wolf) or she ends up on the wrong side of a sleazy proposition (Better Man).
The songs might be called folky laments backed by piano or acoustic guitar. The laments provide well crafted chord progressions and vulnerability, but I prefer the bawdy blues numbers in which Martina belts our her lyrics. You can see older women sitting in the room with her, yelling out, "yeah, ain't that right, sister. You tell 'em. Hmmhmm."
With the bawdy tune, Eggs over Easy, Martina heats up the kitchen and she's not frying eggs. Sadly, there aren't enough of those blues tunes to go around on this CD. Which is a shame since blues is what Martina does best. This Ship features a Latin jazz piano solo that comes out of nowhere and again, I can't help but wish for more of this musical treatment on the CD.
With so many female singer-songwriters clogging up the radio airwaves these days, one needs to find her niche and carry out her uniqueness. If Martina stays authentic while delving deeper into blues and jazz (where she shines best), she will be a talent to be reckoned. In the meantime, let her music act as a guilty pleasure or a cure for your bad deeds.
This archival review by Patty-Lynne Herlevi formerly appeared on Cranky Crow World Music.
Buy Cure for Bad Deeds.