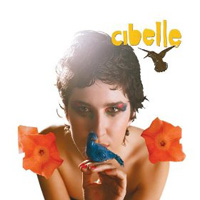 Cibelle
Cibelle (Six Degrees Records)
Sao Paulista Cibelle's debut release, Cibelle (pronounced see-BELL-ee) although worlds apart, some how reflects a Kate Bush pop sensibility married to tropicalia sex appeal. Vocally speaking, Kate and Cibelle have little in common and while Kate would wail like a lioness in heat, Cibelle purrs similar to a playful kitten.
The tracks on Cibelle fall on the lighter pop side and are fused with jazz, samba, electronica and bossa nova. On one hand the tunes represent childlike qualities then they turn on a dime and flaunt a womanly seductive edge. The music travels at an even slow tempo, yet it meanders into steamy territory. If it sounds like I am reciting the beginning of Charles Dickens' Tale of Two Cities, then you an only blame Cibelle's dualistic nature.
For instance, a song entitled Hate is a love song masked by an evocative and highly charged word. Yet, this light pop tune hardly conjures up dark emotions. A few of the songs fall into electronic pop and the chill-out Train features funky beats and a sensual groove. So sei viver no samba with its guitar strums, samba beats and effervescent vocals is one of the highlights on the CD. 'I'll be' focuses on seductive lyrics that might cause some listeners to play this CD as they lie in bed on a lazy Sunday. No prego fuses samples of easy listening violins with ska beats and a collage of sounds. And the imaginative cover of Antonio Carlos Jobim's Inutil Paisagem which features a duet with bossa nova veteran Johnny Alf sung over a mellotron reminds us that Cibelle is indeed a Brazilian musician.
Although this CD marks Cibelle's solo debut, the vocalist composer has experienced the good fortune of being in the right place at the right time. Her vocal talents appear on the late Yugoslavian samba stylist Suba's Sao Paulo Confessions in which the tracks Sereia, Tantos Desejos and Felicidade emerged. Cibelle also croons a duet with Ziriguiboom/Six Degrees recording artist Celso Fonseca on his CD, Natural.
Cibelle has good fortune and youth on her side with a promising musical career. For now, the diva creates seductive and imaginative music as she explores a variety of musical paths. With so many choices, it's no wonder she can't decide on any particular musical direction.
This archival review by Patty-Lynne Herlevi formerly appeared on Cranky Crow World Music.
Buy Cibelle.