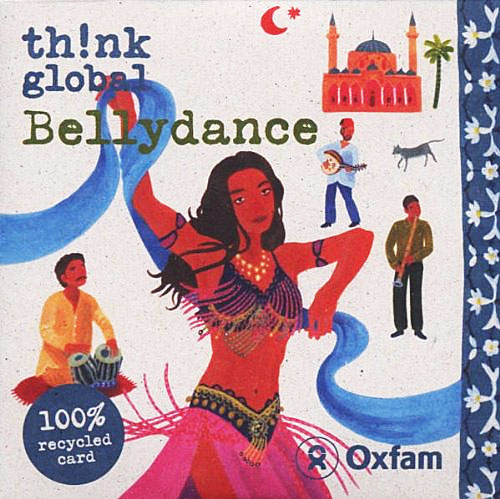 Danced all over the world, bellydance is linked to some of the richest folk, pop and classical music traditions of the Middle East. Think Global: Bellydance (RGNET1161CD) presents some of the best contemporary bellydance musicians and singers to have set the world on fire. Bellydance is a round up of the musical styles that have developed in tandem with the traditional Raqs Sharki (or Bellydance) dance of Arabic North Africa. The compilation brings together music from Egypt, Lebanon, Turkey, Syria and beyond. The tracks have been also been sequenced to suit a bellydance performance.
Notable inclusions on the CD include Hossam Ramzy, who has collaborated with the likes of Page & Plant, Joan Armatrading and Peter Gabriel (on the Passion album which formed the soundtrack to Martin Scorsese's The Last Temptation of Christ); The Cairo Orchestra, one of Egypt's most famous bands and the house band of the Al-Ahram nightclub in Cairo; Richard Hagopian & Omar Faruk Tekbilek's 'Gypsy Fire' project, an attempt to recreate the musical melting pot of New York's 8th Avenue in the 1930s; Omar Faruk Tekbilek, who has worked with Don Cherry, Youssou N'Dour and Trilok Gurtu; and a legend amongst Egypt's musicians, Dr Sami Nossair, the head of Cairo's Music Conservatory.
Bellydance has been produced in collaboration with Oxfam, an independent organization and registered charity. They work at all levels from global to local, including international governments, global institutions as well as with local communities and individuals to ensure that everyone's rights are fulfilled and protected.
Buy Bellydance.
Author:
World Music Central News Department
World music news from the editors at World Music Central