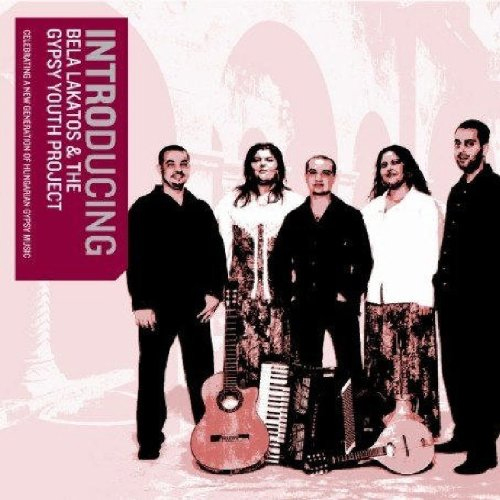 Introducing Bela Lakatos & The Gypsy Youth Project tells the story of Hungarian Gypsy youth, with poignant tales of lost love, hardship and reflections on the life of an outcast people. Known as 'Ternipe' (meaning 'youth') at home, the group – which is predominantly vocal, with percussion from sticks, foot-stomping and a metal can, and an acoustic guitar and mandolin – was formed with the aim of ensuring the survival of Gypsy folk music and to launch the next generation of Hungarian Gypsy music.
In Hungary, traditional Gypsy music comes in two forms. The first is 'restaurant music', played by gypsy orchestras for tourists and the city populations. The second strand is rural folk music, played almost exclusively for the gypsy community.
This international debut album from Bela Lakatos & The Gypsy Youth Project demonstrates that they fall firmly into the second camp. Theirs is the largely vocal style, accompanied mainly by whistling, spoons, sticks and a grittiness that reflects their rural Roma experience.
The project was formed by Bela Lakatos and Gusztav Varga (founder of legendary Hungarian Gypsy band, Kalyi Jag) as a way of protecting the traditional music of the Szabolcs-Szatmar-Bereg region and also to launch the next generation of Hungarian Gypsy folk musicians.
The group began their work by collecting rural songs to include in their repertoire and this CD includes the highlights of these expeditions into Hungary's countryside – lively and infectious songs which reflect the hardship and occasional joys of life in an outcast community; cabbage boiling on the stove, rough justice, domestic bloodbaths and the skies raining poverty on the downside; drunkenness, love, dancing family and lucky footwear balancing things out.
'O Bijav' (The Wedding) is a suitably beguiling, infectious and upbeat opening, where the wedding represents a celebration of the Gypsy mindset. 'Lina' describes some gruesome events with a knowing smile and a winning chorus, while more proud family sentiment takes a more conventional turn on the wonderful 'Muro Shavo Kiki' (My Dear Son Kiki).
Loneliness comes to the fore on the plaintive 'Korkorro Som' (I'm Lonely) before being blown away by a stolen windfall on 'Patave Baxtale' (Fortunate Sandal). The album comes to a fine, life-affirming conclusion with party tune, 'Na Sutyom' (I Haven't slept) and the whistle call to all nomads and outcasts, 'Po Drom' (On the Road). These themes are played out in the three predominant song styles of Hungarian Gypsy music; the Lo Ko Gilji (slow ballad); the Ro Vjaki Gilji (a song for the 'stick dance' that is typically played in a 4/4 rhythm); and the Khelimaski Gilji (another dance style, for solo or group dancing which is played in a 2/3 rhythm).
Buy Introducing Bela Lakatos & The Gypsy Youth Project
Author:
World Music Central News Department
World music news from the editors at World Music Central