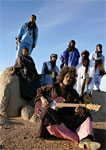 Mali – Andy Morgan, manager of Tuareg band Tinariwen has reported on the development of a crisis in the African nation of Mali. According to his account, the northeast of Mali is in turmoil following attacks on military and police installations in the towns of Kidal and Menaka. On the morning of 23rd May, at around 06h00 local time, an armed rebel Tamashek ('Tuareg') group under the command of Hassan Fagaga
attacked two military barracks near the regional capital Kidal and held them for the next 24 hours. Fighting continued for some hours as civilians, women and children for the most part, fled into desert.
A number of soldiers, national guardsmen and police took refuge in the old fort of Kidal and continued firing on rebels and civilians in the streets below. There are reports of four fatalities, two soldiers and two rebels. In Menaka,  Moussa Bah, a Tuareg army officer stationed in the local barracks mutinied and fled into the bush with a number of other deserters, having taken a quantity of arms and ammunitions from the camp arsenal.
At around 14h00 today, May 24, an armored division of the Malian army, which had
traveled overnight from Gao in the south, retook Kidal. The rebels have fled north, and the situation is apparently tense but calm.
These events follow a period of mounting regional tension. The politics of the southern Sahara are extremely complex. Simmering disagreements between certain local Tamashek leaders and the Malian government have persisted since the signing of the National Pact which put an end to last Tuareg rebellion in 1996.
The recent opening of a Libyan consulate in Kidal, the strategic rivalry between the Ghadaffi regime and the Algerian government, the discovery of large oil reserves in northern Mali, the presence of renegade fundamentalist militias in southern Algeria and the arrival of US military advisors have all fueled a welter of speculation and rumor.
Kidal is the hometown of the Tamashek group Tinariwen, who are currently on tour
in Sweden and following events anxiously from afar. Various members of the group
have managed to call friends and family in Kidal. They are very concerned for the welfare of their families, who are camping out in the desert in the hottest and driest season of the year.
There is also a concern that this story will remain largely ignored by the western media, or even worse, that events will be misreported and that rumor will mutate into fact. "We call on all friends of the desert and of Tinariwen to help raise awareness of the situation
amongst media organizations in their country," said Morgan. Tinariwen's manager also called for "any NGOs and humanitarian organizations who have a presence in the region to help alleviate the suffering of the civilians caught up in this conflict."
Author:
World Music Central News Department
World music news from the editors at World Music Central