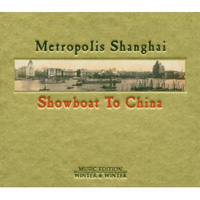 Metropolis Shanghai: Showboat to China (Winter and Winter 910 111-2, 2005)
Zuflucht in Shanghai: The Port of Last Resort – A Film by Joan Grossman and Paul Rosdy, Music by John Zorn (Winter and Winter 915 004-7, 2005)
In the late 1930s and early '40s about 20,000 European Jewish refugees arrived in Shanghai. That Chinese port city was one of the very few places where they were unconditionally welcomed (though by most accounts, "tolerated" would probably be a better word). Shanghai at the time was both a troubled and exotic place, a sometimes uneasy mixture of prosperity, nascent multiculturalism and squalor partly resulting from the ills of the Sino-Japanese war era.
Ambitious and authentic, Metropolis Shanghai seeks to present what the city sounded like at the time.
A combination of traditional Chinese music, jazz, classical-and-popular-rooted Jewish compositions, military marches and scene-setting environmental sounds, the disc moves easily from whimsical ("Strolling on the Street") to melancholy ("Sehnsucht," "Khsideshe") to spiritual ("Bells and Chants
at the Long Hua Temple"), all the while piecing together a fascinating musical picture of a chapter in history that's rightly becoming better-known.
Brave Old World, a U.S.-based quartet renowned for combining longtime Jewish musical motifs with jazz and classical leanings, are among those responsible for the evocative sounds. I'd advise against doing anything else while listening to this CD. Just listen closely and let it take you to another time and place.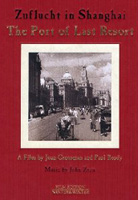 Forgive my putting a DVD review alongside a CD review, but similarly enlightening is Zuflucht in Shanghai: The Port of Last Resort, an acclaimed 1998 documentary now on DVD.
Mixing old footage and still images with survivor testimonials and a tender music score by John Zorn, the film movingly traces the journey of Jews fleeing Nazi Germany to such places as "Little Vienna," a refugee community in Shanghai's Hongkew district. Simple, straightforward and dignified, it's a totally absorbing visual recounting of what the music on Metropolis Shanghai suggests.
Author:
Tom Orr
Tom Orr is a California-based writer whose talent and mental stability are of an equally questionable nature. His hobbies include ignoring trends, striking dramatic poses in front of his ever-tolerant wife and watching helplessly as his kids surpass him in all desirable traits.