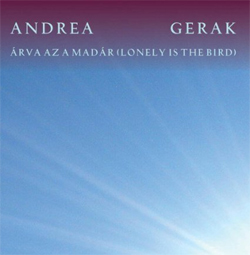 After Andrea Gerak's a cappella CD Madarka, madarka
(Little Birdie), haunting folk songs from various regions of historical
Hungary, was sold out, her fans could hardly wait for a new album. Now, a new
recording is available: Arva az a madar – Lonely Is The Bird.
Andrea Gerak leads the project,
staying true to her Hungarian folk singer roots. She lends her unmistakable
voice to the music composed by a group of versatile and talented artists from
five countries; threading Eastern European pearls on melodies of Middle East and
Northern Europe, Caribbean rhythms and modern technology, into a shining,
beautiful string.
Andrea Gerak (Hungary –
Sweden): vocals
Effi Shoshani (Israel): piano,
keyboards
Angel Oros – Cambridge (Spain):
synthesizers
Jose Aurelio
Ferrandez – Nusrat Fateh (Dominican Republic): duduk, ney, percussion
Edgar (Dominican Republic): percussions
Sandor Fekete-Kiss (Hungary):
synthesizers
Aleah (Sweden): cover art
Six tracks, 44 minutes, lyrics in Hungarian and English.