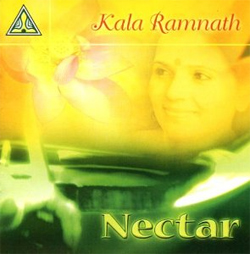 Kala Ramnath – Nectar (Sense World Music, 2005)
N. Rajam & Sangeeta Shankar – Violin Dynasty (Sense World Music, 2005)
Nectar marks the illustrious Indian classical violinist Kala Ramnath's third solo recording with Sense World Music. "Kala Ramnath is a tradition-bearer of one of the Indian subcontinent's most respected and most
unique musical dynasties. She can be described 'unique' in its precise sense.
Like her cousin Sangeeta Shankar (mentioned later in this review), she is a fourth-generation dynasty of musicians, the first three generations having been court musicians specializing in vocal music in Tripunittura in Kerala on the southwestern flank of India." (liner notes). Born in 1967,
Kala began studying violin under the tutelage of her grandfather, A. Narayana Iyer. She was 2-years old at the time and playing a full-size violin.
Obviously from reading her brief biography included in the liner notes and hearing her perform on her three solo recordings and a duet recording with Sitarist Purbayan Chatterjee on Samwad, Kala is an artist who enjoys performing challenging music, a real musical dynamo.
I enjoy Kala's recordings because she blends the rigorous workout of classical Indian music structure and technique and a great deal of instinct that comes from the feminine side of the brain. Her music strikes a balance between right and left, female and male to a point of oneness. This quality of course can be found in the music of many classical Indian music masters, but now-a-days, we are seeing an enormous range of talent in classical Indian musicians under the age of 40, leaving us to wonder the essence that is flowing in India's rivers. While many music lovers in North America know of Anoushka Shankar (Ravi Shankar's daughter and Sitarist), she is only the tip of the iceberg and perhaps a good introduction to amazing Indian classical music talent that is waiting to be discovered, Kala Ramnath among these musical gems.
On her 2005 recording, Nectar features Kala performing in the Hindustani classical musical style of North India. However, Kala is trained in both the Carnatic tradition of southern India and the Hindustani style. For those of you familiar with these two styles of music understand that interpreting the two styles take a great deal of brain power and
instinct.
Kala performs Raag Bihagada on this recording. The Alap gently unfolds and Kala's performance informs her listeners of the mood, tone etc… of the raga. Track 2 is played in a slow roopak tal (beat cycle). The result is entrancing. The composition is performed in both a 16 beat and a 12 beat cycle then Kala returns to a slow 10-beat cycle on tracks 4 & 5, then returning to teental on the 6th track.
The final track is a Hindu praise song, "Mayi Saanvre Rang Raachi is Meera bhajan–a form of Hindu praise song set in Bhairavi." (liner notes) On this recording Kala is joined by Tabla player, Vijay Ghate whose steady beats gently anchors Kala's flights of fancy.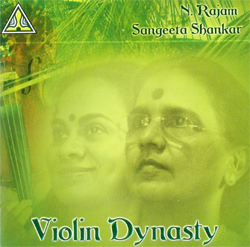 For those folks that enjoy Indian classical violin and especially performances by women players, also check out, the mother-daughter violin virtuoso duet recording, Violin Dynasty, featuring N Rajam and her daughter, Sangeeta Shankar. This fabulous CD was recorded live at the Saptak Festival in India last winter. N Rajam is the daughter of A. Narayana Iyer and the aunt of Kala Ramnath. While N Rajam's brother, TN Krishnan was guided in the Carnatic tradition, N Rajam was taught the Hindustani tradition. She is known for her 'gayaki ang' style of playing. Today she has mastery of both the Carnatic and Hindustani traditions. On this live recording she demonstrates her emotional palette as well as her perfected technique.
N Rajam's daughter, Sangeeta Shankar, the other half of this powerful duet began her training at the age of 4 and under N Rajam's tutelage. She began performing at the age of 13. She has recorded both Indian classical music traditions with her mother. "In Indian classical music successful duet playing, or jugalbandi, demands spontaneous musical improvisation with a high level of mutual understanding and aesthetic rapport, and takes on a special significance when performed by mother and daughter." (liner notes).
While it's almost cliché to say that each player nurtures the other's performance and that mother and daughter intuitively read each other's hearts, that does seem to be the case with this live recording. The Divine Feminine raises her beautiful head. Add the energy of a passionately enthusiastic audience and in listeners are in for a powerful experience generated by two violins and tabla performed by Ramkumar Misra.
The musicians perform the popular night Raga Bageshri. It begins with a slow and mesmerizing Alap. The first composition is performed in the manner of classical khayal (vocal) style. Although these passages are slow, the the atmosphere created by the musicians is playful. The tempo does speed up and the performances gather steam in the middle of the CD and the playing is breathtaking at times.
The final raga, Misra Khamaj is performed in a light classical style and is set to a slow 16-beat cycle. I find the raga whimsical. Towards the end of the piece, Ramkumar performs a brief tabla solo. This is followed by one of the most enthusiastic audience responses I have heard on these live recordings and that's saying a lot. I also felt incredibly elated and at peace by the end of this
fabulous recording.
We certainly do not need to worry about the future of the classical Indian music traditions based on these 2 recordings. And as long as blissful and ecstatic music of this nature exists on the planet, we will find peace and harmony amongst ourselves.
Buy Nectar and Violin Dynasty in North America
buy Nectar and Violin Dynasty in Europe