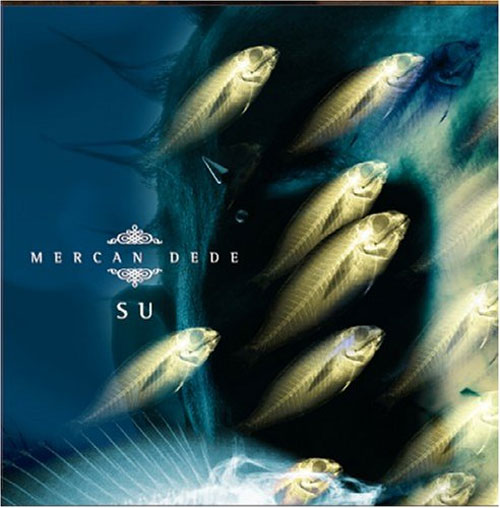 Istanbul's Bosphorous River is ever present in Su, the new album by Turkish Sufi musician Mercan Dede. The album title means "Water," and liquid metaphors saturate every aspect of the record, which will be released on April 19, 2005 on Escondida. A presentation of the album will take place in New York City. Details are listed below.
"This was recorded entirely in my living room overlooking the river,"
says Dede, whose electronics are complemented by his own playing on the ney (wooden flute) and Turkish percussion. "All of the guest musicians on this album drank Turkish tea and looked at the river with me. Most people think the river divides the city from Asia and Europe. But really it brings them together. I let our collaborations flow like the calming river."Dede met many of his collaborators over the past few years during which he traveled over two million kilometers. Collaborations on the CD flow from Indian singer  Susheela Raman,
TransGlobal Underground sitarist Sheema Mukherjee, Tunisian singer Dhafer Youssef, electric violinist Hugh Marsh, and Turkish rapper Ceza. "When I look for people to play with, the most important thing is not how good you are technically, but how honest you are; how your music reflects your heart. All theses musicians put their heart and life into their music."
"When you watch a river, in the same spot for all your life, you never see
the same water," Dede continues. "When recording, each person brought a new element. Like water, music needs to flow."
There is a mystical presence throughout Dede's career. He has operated under more names than even his managers and record labels know. He goes by Arkin Allen when he is DJing in an uptempo dance setting, and uses different names depending on the context. He has been known to change his name so that his music becomes anonymous and stands on its own, outside of expectations associated with any image.
Dede—who is also a photographer and visual artist—believes he should have a reason for everything he creates. The number of tracks on
Su, the names of the songs, the color of the album, even the number of fish on the CD cover photograph relate to the album concept, and to Sufi beliefs. "There are twenty four symbolic messages in the album design itself," explains Dede. "Each song makes reference to one of the symbols. This is conceptually related to the album. The more you listen, the more you hear. The album artwork is the same."
"I try not to do anything intellectual," says Dede. "In modern life, the intellectual is so powerful it takes the place of simplicity and the human heart. I make music for discovery. I try to create something more like a mirror. I want the audience to find something about themselves. I ask myself 'How can I use music as a process of self discovery?' That is how I came across the idea that there are four elements that make up all of human emotion. My last album, Nar, which means "Fire," related to excitement and anger. Su is about a feeling of calmness and a spiritual cleansing. My next two albums will be about Breath and Earth. We all come from the Earth and when we die, we all return to the Earth."
Mercan Dede & Secret Tribe in New York
Mercan Dede: Ney, Bendir,Vocal, Turntables, Sample Electronic sounds
Memduh Akatay: Darbuka, Folk Drum, Bendir
Huseyin Ceylan: Darbuka, Bass Darbuka
Goksel Baktagir: Kanun (Zither)
Aykut Sutluoglu: Clarinet, Trumpet
Mira Burke: Dance
Tickets: $25 – Two Shows in May 6th, 8pm and 11pm
@Club M1-5, 52 Walker Street NYC
Ticket Sales with C.Cards
www.serdarilhan.com/tickets.htm,

www.tulumba.com/icy_items.asp?Cc=SERV_TICKETS