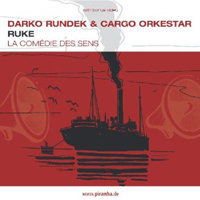 Darko Rundek and Cargo Orkestar
Ruke (Piranha CD-PIR1894, 2004, distributed by Harmonia Mundi in the USA)
Think of Cargo Orkestar as the opposite of a stately, well-mannered-and-dressed dance band you'd hear in the ballroom of a luxury liner. Zagreb-born band leader Darko Rundek is one of those restless creative types. He's worked as an actor and director for stage and screen and carried that sensibility over to his musical career. As head of the Croatian rock band Haustor he shook things up sonically and ideologically in the former Yugoslavia.
His outlook likely tempered a bit by the ravages of war in the Balkans in recent years, the music he's now overseeing with Cargo Orkestar can be brooding and bleak-sounding, but there's an underlying beauty that suggests hope within. What's heard here is by and large a fusion of edgy Croatian traditionalism with French Chanson, though the varying nationalities and talents of Rundek's Bosnian/French/Swiss/Croat Orkestar members (who are credited with most of the
arrangements) bring a good deal else into it as well. One key ingredient is the gorgeously understated violin work, courtesy of a gal who goes simply by the name of Isabel and whose playing perfectly matches Rundek's dark-humor vocal style and simple but compelling compositions.
The music on the album, mostly mid-tempo, seems to reach out cautiously to the several styles it embraces, including African and Arabic rumblings, Euro-jazz, Silk Road excursions, cabaret-like drama, distant techno suggestions and one very snug genre-crosser into reggae. The players focus their
eccentricity (love those bios in the liner notes) on putting together a sound that could have easily come out flip and gimmicky but makes its own kind of fun by playing it straight. If this is what's going on down in the hold, I'll skip whatever's playing on the upper levels.
Author:
Tom Orr
Tom Orr is a California-based writer whose talent and mental stability are of an equally questionable nature. His hobbies include ignoring trends, striking dramatic poses in front of his ever-tolerant wife and watching helplessly as his kids surpass him in all desirable traits.